Atletik sering disebut sebagai induk dari semua cabang olahrata atau mother of sport dan jadi olahraga yang paling tua di dunia.
Ada beberapa jenis olahraga yang termasuk dalam cabang olahraga atletik, salah satunya adalah tolak peluru yang ada dibawah ini!
---
Pengertian Tolak Peluru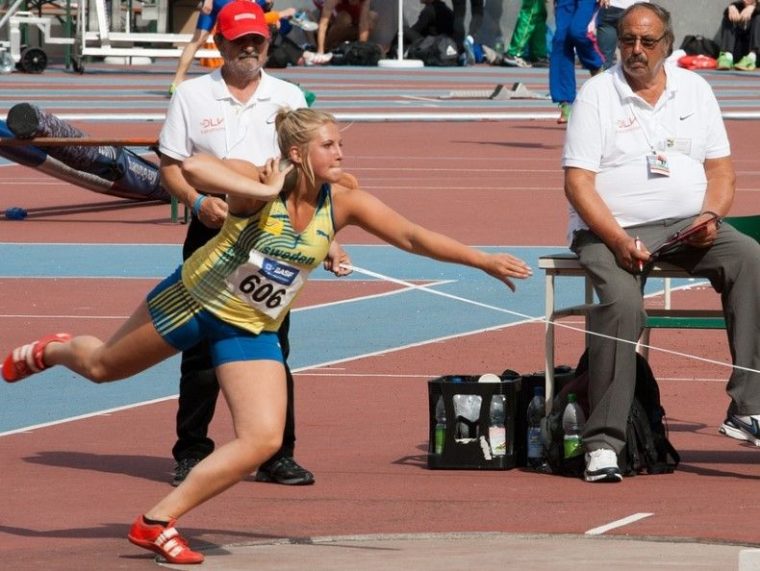 Tolak peluru yaitu olahraga lempar dalam atletik yang dilakukan dengan cara menolak atau mendorong peluru atau bola yang terbuat dari logam sejauh mungkin dari titik lempar menuju titik pendaratan memakai teknik tertentu.
Permainan tolak peluru bisa dilakukan di lapangan indoor ataupun outdoor. Karena, tolak peluru gak membutuhkan area pendaratan yang luas.
Meski terlihat mudah buat dilakukan, olahraga tolak peluru ini tergolong olahraga berat yang gak bisa dilakukan oleh sembarangan orang.
Ada dua faktor yang menentukan dalam olahraga tolak peluru yaitu postur tubuh atlet dan penguasaan teknik yang ada didalam permainan tolak peluru.
---
Sejarah Tolak Peluru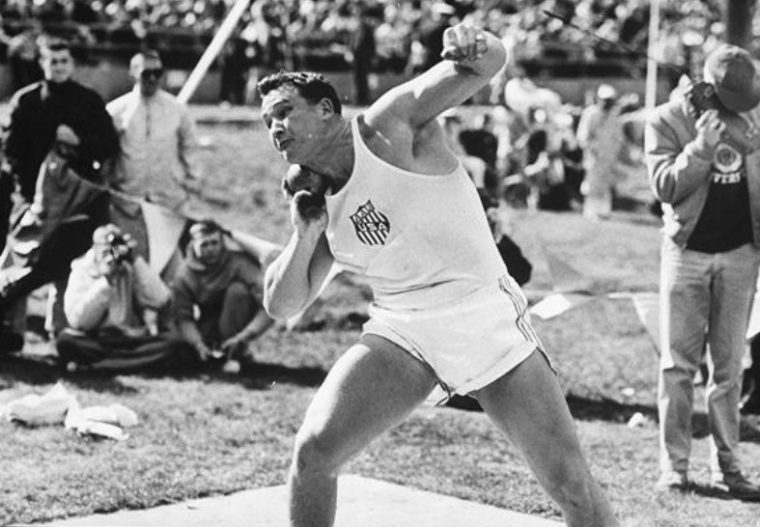 Olahraga tolak peluru udah ada sejak yunani kuno, tapi dengan cara yang beda pada saat itu. Zaman dulu, tolak peluru bernama lempar beban atau weight trowing menurut Homer.
Tapi, gak ditemukanya catatan sejarah dari bentuk dan juga bahan yang dipakai pada waktu tersebut.
Tapi olahraga tolak peluru jadi salah satu bentuk dari latihan perang yang dilakukan oleh para prajurit dari troya dan dipertandingkan antar prajurit.
Salah satu jejak olahraga tolak peluru yang berhasil ditemukan adalah kompetisi yang diadakan di Negara Skotlandia di abad pertama.
Pada abad ke XVI Raja Henry ke VII menyelenggarakan pertandingan yang hampir sama adalah lempar palu dan lempar beban.
Kompetisi pertama yang bentuknya seperti tolak peluru masa kini yaitu kompetisi pada era pertengahan dimana kompetisi tersebut diselenggarakan oleh kalangan militer.
Yang kemudian diikuti oleh para prajurit yang melempar bola besi sejauh – jauhnya dari titik tolak.
Kompetisi tolak peluru pertama kali didokumentasikan yaitu kompetisi di Skotlandia dan sebagai salah satu dari The British Amateur Championsships di tahun 1866.
Sejak itu, olahraga tolak peluru mulai disukai di negara-negara Eropa dan jadi salah satu atletik yang dipertandingkan dalam olimpiade moder pertama di Yunani pada tahun 1896.
---
Peraturan Tolak Peluru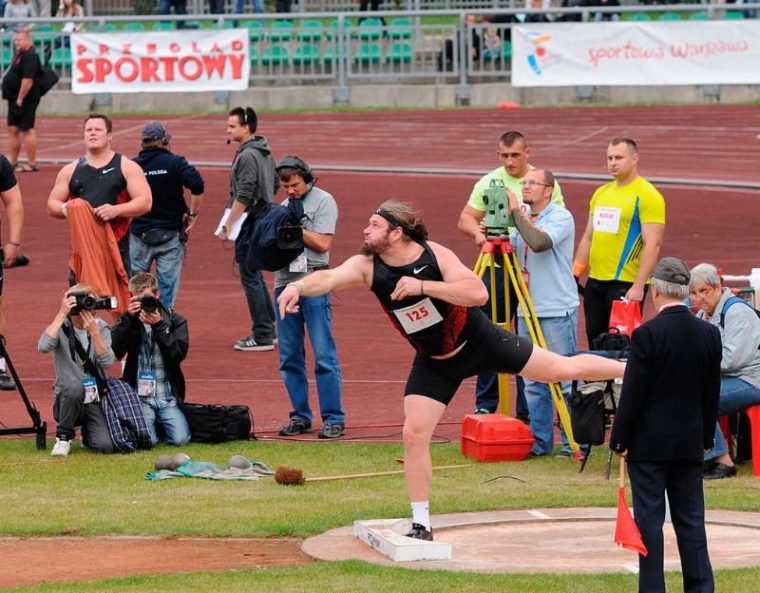 Setiap cabang olahraga tentu mempunyai peraturan sendiri, termasuk tolak peluru. Ada beberapa peraturan permainan tolak peluru yang wajib ditaati para atlet.
Atlet diperbolehkan memasuki lingkaran tolakan dari arah mana aja. Biasanya, para atlet memilih buat memasuki lingkaran dari samping dan belakang.
Atlet tolak peluru cuma diberi waktu selama 60 detik buat menyelesaikan pertandingan, dihitung sejak namanya dipanggil. Kalo dalam waktu 3 menit belum juga melakukan tolakan, atlet dikenakan diskualifikasi.
Atlet dilarang memakai sarung tangan, tapi boleh memakai pelindung ruas jari (taping) selama pertandingan.
Atlet boleh memegang bagian dalam wilayah lemparan berupa lingkaran besi.
Atlet harus menahan peluru memakai leher selama melakukan gerakan tolakan.
Atlet akan didiskualifikasi kalo meletakkan peluru gak sesuai dengan peraturan, contohnya di belakang kepala atau di depan perut.
Peluru cuma boleh ditolak dengan memakai satu tangan dengan posisi lebih tinggi dari bahu.
Gerakan tolakan cuma boleh dilakukan di dalam lingkaran. Sedikit aja kakinya ada di luar batas lingkaran, atlet tersebut dinyatakan didiskualifikasi.
Peluru harus mendarat di sektor area pendaratan yang disediakan (34,92 derajat). Atlet akan didiskualifikasi kalo peluru jatuh di luar sektor pendaratan atau 3 kali melakukan kegagalan.
Pengukuran dilakukan mulai dari lokasi tempat peluru pertama kali jatuh sampai ke tengah lingkaran.
Setelah melakukan lemparan, atlet harus meninggalkan lingkaran melalui sisi belakang lingkaran.
Atlet baru boleh meninggalkan lingkaran setelah peluru mendarat.
---
Lapangan Tolak Peluru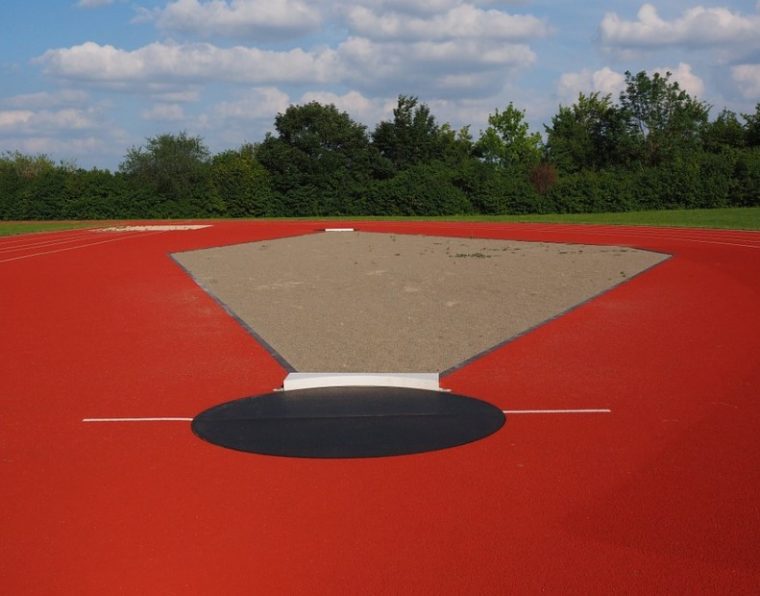 Lapangan buat tolak peluru hampir sama dengan lapangan lempar cakram. Bedanya ada pada papan batas tolakan yang ada pada lingkaran tolak peluru.
Berikut dibawah ini ada beberapa ketentuan buat lapangan tolak peluru, diantaranya yaitu:
Lapangan tolak peluru terdiri dari 2 bagian yaitu lingkaran tolakkan dan sektor pendaratan.
Lingkaran tolakan punya diameter 2,235 meter dan dikelilingi ring besi dengan ketebalan 66 mm dan tinggi 2 cm sebagai batas lingkaran. Bagian depan lingkaran tolakkan dipasangi balok atas tolakan dengan panjang 1,22 meter, tinggi 10 cm, dan tebal 11,4 cm.
Sektor pendaratan berupa tanah yang ditandai garis batas (sector line) dan garis ukur standar yang ada di tengah sektor pendaratan. Panjang sektor pendaratan minimal 25 meter dengan sudut 40 derajat.
---
Peralatan Tolak Peluru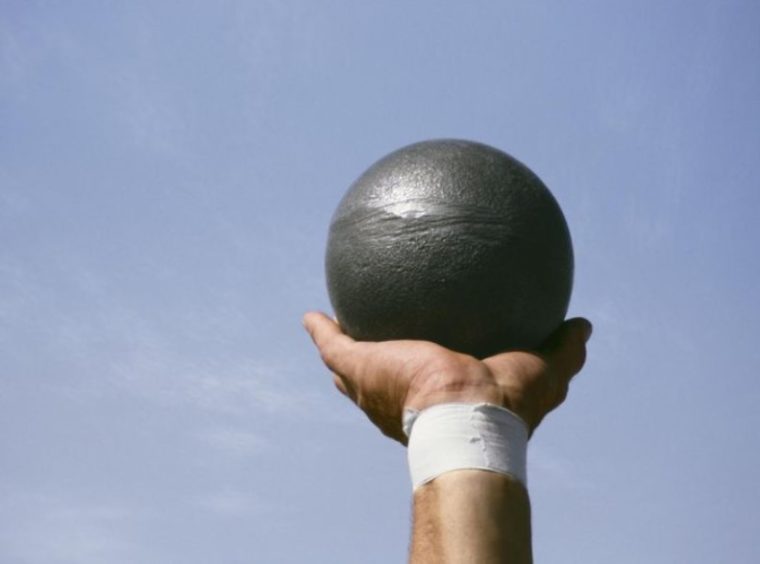 Peralatan – peralatan yang dibutuhkan dalam permainan tolak peluru adalah sebagai berikut:
Alat pengukur
Peluit
Bendera
Bola peluru atau bola besi
Ada beberapa ketentuan dari bola peluru atau bola besi tersebut, diantaranya yaitu:
Ukuran bola disesuaikan dengan jenis lapangan yang dipakai. Biasanya lapangan indoor memakai bola yang berukuran sedikit lebih besar dari lapangan autdoor dan bahan dari bola tersebut dibuat dari baha yang beda tapi punya berat yang sama.
Bola peluru tersebut bisa aja terbuat dari bahan besi, pasir, solid, logam, stainless steel, polyvinyl dan material sintetis.
Bola peluru atau besi buat junior putri yaitu dengan berat 3 kg.
Bola peluru atau besi buat junior putra yaitu dengan berat 5 kg.
Bola peluru atau besi buat senior putri yaitu dengan berat 4 kg.
Bola peluru atau besi buat senior putra yaitu dengan berat 7.25 kg.
---
Gaya Tolak Peluru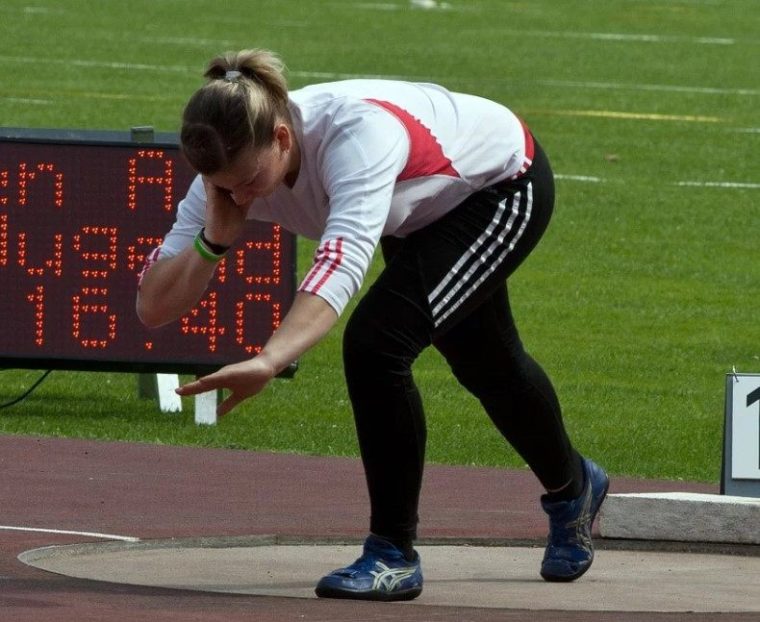 1. Gaya Meluncur (Glide)
Gaya glide pertama kali dipakai dan pertama kali dikenalkan juga oleh Parry O'Brien dari Amerika Serikat pada tahun 1951.
Cara melakukan gaya meluncur seperti berikut ini:
Posisikan tubuh menghadap ke arah belakang atau membelakangi sektor pendaratan.
Pegang peluru dan tempelkan ke bagian leher kanan dengan posisi kepala sedikit miring sesuai posisi peluru.
Posisikan badang sedikit menunduk dan condong ke sisi kanan jadi bahu kiri lebih tinggi.
Tempatkan lengan kiri di depan wajah.
Tekuk kaki kanan buat memberikan daya tolakan dan posisikan kaki kiri di daerah belakang, bisa sedikit ditekuk atau lurus dengan ujung kaki menyentuh lantai/tanah.
Saat akan melakukan tolakan 180 derajat, condongkan badan sedikit ke depan jadi ujung kaki kiri terangkat dari lantai, kaki kanan melakukan tolakan dan kaki kiri terdorong sampai balok batas lempar.
Bersamaan dengan gerakan tersebut, lakukan dorongan tangan dengan cara memutar badan ke arah sektor pendaratan dan tangan kanan melakukan tolakan sekuat tenaga.
Saat tangan kanan melakukan tolakan, geser posisi kepala supaya gak menghalangi peluru menuju sektor pendaratan.
Terakhir buat atlet kidal, lakukan cara di atas dengan memakai anggota tubuh yang berlawanan.
Lemparan terjauh dengan memakai gaya glide ini dimiliki oleh tim German yaitu Ulf Timmermann dengan jarak lemparan sejauh 23,06 meter.
2. Gaya Berputar (Spin)
Gaya berputar pertama dilakukan oleh Aleksander Baryshnikov dari Rusia pada tahun 1972 dan membuat rekor baru putra dengan jarak 22 meter.
Sebelum melakukan lemparan atlet berputaran 360 derajat sebelum lemparan dilakukan. Gaya tersebut mampu memberikan momentum yang terbaik buat melempar peluru sejauh-jauhnya.
Cara melakukan gaya berputar, yaitu seperti ini:
Pertama, posisikan tubuh sama seperti gaya glide yaitu menghadap ke belakang, tangan kanan memegang peluru dan menempelkannya ke leher kanan. Badan dalam posisi tegak dan kepala miring.
Sejajarkan kedua kaki, jadikan kaki kiri sebagai tumpuan supaya kaki kanan bisa diayun menuju tengah lingkaran.
Kaki kanan menuju area tengan lingkaran dengan tetap membelakangi area pendaratan dan udah bersiap jadi poros.
Sebelum kaki kanan menapak tengah lapangan, kaki kiri yang sebelumnya jadi poros diangkat dan diayunkan dengan gerakan melingkar jadi pada akhir putaran tubuh, kaki kanan yang jadi poros.
Tapakkan kaki kiri di daerah belakang kaki kanan, sejajar dengan jarak sebahu lebih sedikit dan posisi tubuh serong ke arah samping belakang.
Setelah kaki kiri menapak, tubuh dihadapkan ke sektor pendaratan dan bersamaan dengan tangan sebelah kanan melakukan tolakan ke arah depan dengan kekuatan penuh. Putaran tumit, pinggul, lutut dan dada ke arah depan akan memberikan tambahan daya dorong.
Setelah peluru terlempar, kemungkinan besar tubuh masih akan berputar karena energi yang dilepaskan membentuk garis putaran tubuh.
Atlet terbaik dalam tolak peluru memakai gaya berputar atau spin yaitu Rabdy Brandes yang berhasil melempar dengan jarak 23.12 meter.
3. Gaya Samping (Klasik)
Gaya samping adalah gaya yang paling tua dan gak ada yang tahu siapa penemu gaya samping atau klasik tersebut.
Cara melakukan gaya samping yang benar, yaitu:
Pertama, mengahadap kesamping dalam posisi siap sebelum melakukan tolakkan peluru.
Kemudian, peluru dipegang dengan kedua tangan dan tangan kanan menyangga peluru diatas bahu. Lalu, tangan sebelah kiri memegang peluru bagian atas.
Terakhir, peluru tersebut di lempar dengan satu tangan saja yaitu tangan kanan.
---
Teknik Dasar Tolak Peluru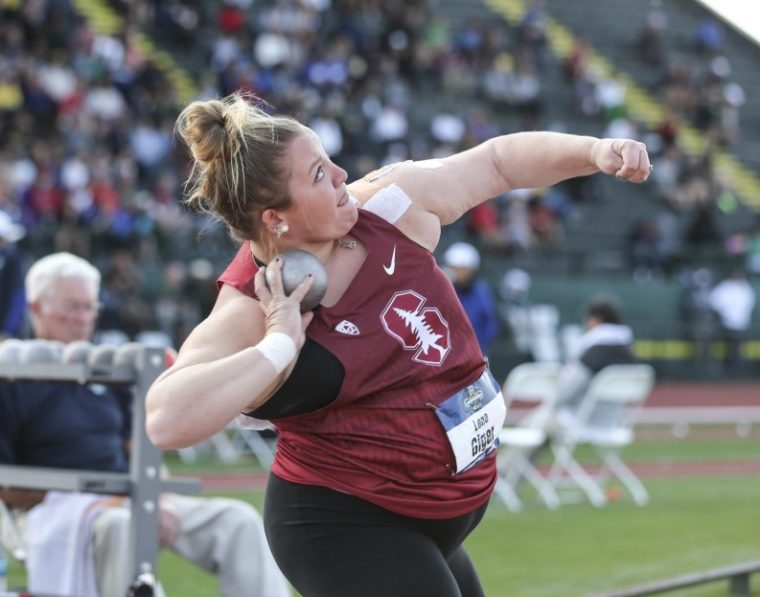 Ada 3 teknik dasar dari permainan tolak peluru yang harus kamu ketahui, diantaranya yaitu:
1. Teknik Memegang Peluru
Peluru besi yang dipakai dalam olahraga tolak peluru mempunyai bobot cukup berat yaitu antara 3 kg sampai 7 kg lebih.
Makanya, kamu tuh harus menguasai cara memegang peluru dengan benar supaya jari gak terluka atau bahkan sampai patah.
Caranya:
Cara pertama, letakkan peluru di telapak tangan dan pegang peluru dengan erat memakai jari-jari tangan dengan posisi jari-jari dikembangkan.
Selanjutnya pakai jari telunjuk, jari tengah, dan jari manis buat meletakkan peluru.
Lalu, letakkan jari kelingking di bagian samping peluru dalam posisi menekuk dan ibu jari berada pada posisi biasa buat menjaga keseimbangan peluru.
Kemudian, kamu berikan tenaga lebih pada ibu jari supaya bisa menahan peluru lebih kuat, jadi gak jatuh.
Cara kedua, rapatkan jari-jemari termasuk kelingking dan tempelkan pada bagian belakang peluru. Letakkan ibu jari di bagian samping peluru agar seimbang.
Cara ketiga hampir sama dengan cara kedua yaitu dengan merapatkan jari-jari, tapi dengan posisi sedikit lebih renggang. Teknik ini cocok buat kamu yang mempunyai telapak tangan kecil.
2. Teknik Meletakkan Peluru di Leher
Cara melakukan teknik meletakkan peluru, yaitu:
Pertama, sebelum kamu meletakkan peluru di leher, kamu harus udah memutuskan teknik memegang peluru yang nyaman dan bisa menghasilkan tenaga tolakkan yang paling besar.
Lalu, penggunaan tangan kanan sangat dianjurkan buat memegang peluru, kecuali buat kamu yang kidal.
Kemudian, setelah peluru dipegang dengan teknik yang benar dan tempelkan peluru pada leher samping kanan.
Selanjutnya, ibu jari menempel di atas tulang yang ada di bagian bahu atau tulang selangka.
Posisikan siku lurus dan sejajar dengan bahu dan miringkan kepala ke arah peluru supaya kedudukan peluru lebih stabil.
3. Teknik Menolak Peluru
Selain teknik memegang peluru dan meletakkannya di leher, teknik melempar atau menolak peluru juga perlu diperhatikan agar menghasilkan lemparan sejauh mungkin.
a. Persiapan Tolak Peluru
Caranya:
Sikap tubuh yang terbaik saat akan melempar peluru yaitu berdiri dengan tegak dan rileks dengan posisi menghadap ke samping lapangan.
Lalu buat memudahkan menolak, kaki direnggangkan selebar bahu dengan kaki kanan sedikit ditekuk dan berat badan menumpu di kaki kanan.
Tangan kanan yang memegang peluru diletakkan menempel di bahu, tepat di bawah rahang dengan siku membentuk sudut 900 dan tangan kiri ditekuk dengan siku menghadap arah tolakan.
b. Gerakkan Tubuh
Caranya:
Saat memegang peluru, kaki yang dekat dengan sektor lemparan digerakkan dengan cara diayun sebagai persiapan buat menolak peluru.
Sedangkan, pinggang diputar ke sisi sektor lemparan jadi pinggul membantu mendorong, tubuh condong ke depan dan pandangan fokus ke arah lemparan.
c. Akhir Tolak Peluru
Caranya:
Sebelum menolak, posisi tubuh harus siap dengan kaki kanan yang akan digerakkan ke depan sebagai tumpuan dan menggantikan kaki kiri yang dipakai buat berisiap.
Lalu, kaki kiri lurus ke belakang dan gak tegang, lutut kanan sedikit ditekuk agar lebih kuat mendorong lemparan dan pandangan tetap fokus.
Selanjutnya pada saat melakukan tolakan, putar badan ke arah sektor pendaratan.
Kaki kanan menolak dan melonjak agar tenaga yang cukup besar buat mendorong peluru seluruhnya berada di tangan kanan yang memegang peluru.
Setelah itu, lontarkan peluru dengan sudut dolakan 40 derajat ke arah atas.
Setelah peluru dilontarkan, kaki mendarat kembali ke tanah dengan posisi sedikit menekuk. Sedangkan, posisi badan ke arah depan dengan pandangan melihat ke posisi jatuhnya peluru.
---
Atlet Tolak Peluru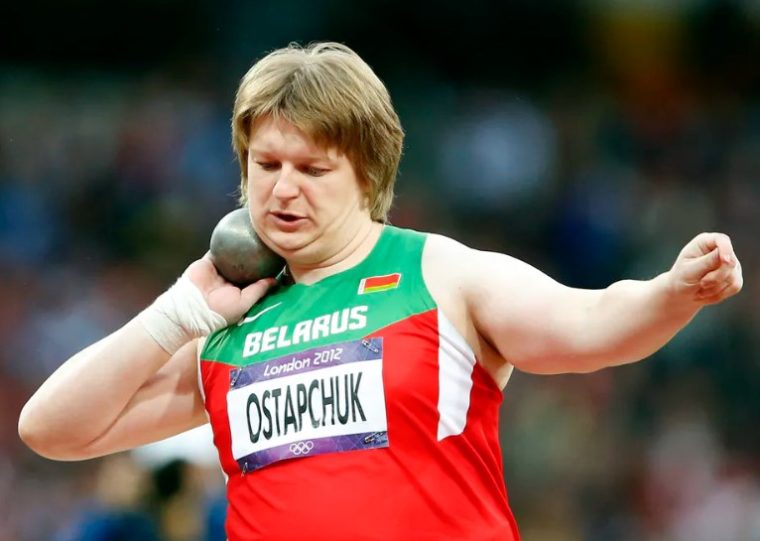 Didalam sebuah sejarah prestasi tolak peluru ada 3 orang yang menjadi legenda sampai saat ini, loh.
Pertama yaitu Randi Barnes dari Amerika Serikat dengan yang memecahkan rekor dunia tolak peluru lapangan outdoor dan indoor dengan jauh lemparan 22.66 meter indoor 23.12 meter outdoor.
Selain Barnes ada juga yang lain, dibawah ini ada beberapa atlet tolak peluru putra papan atas yaitu:
Randy Barnes dari Amerika Serikat di Wesrood pada 20 Mei 1990 dengan jauh lemparan 23.12 meter.
Ulf Timmermann dari German Timur di Khania pada 22 MEi 1988 dengan jauh lemparan 23.06 meter.
Alessandro Andrei dari Italia di Viaregio pada 12 Agustus 1987 dengan jauh lemparan 22.91 meter.
Brian Oldfield dari Amerika Serikat di El Paso pada 10 Mei 1975 dengan jauh lemparan 22.86 meter.
Werner Guntof dari Swiss di Bern pada 23 Agustus 1988 dengan jauh lemparan 22.27 meter.
Sedangkan, buat atlet tolak peluru putri papan atas yaitu:
Natalya Lisosvkaya dari Rusia di Moscow pada 7 Juni 1987 dengan jauh lemparan 22.63 meter.
Helena Fibingerova dari Republik Ceko di Jablonec Nad Nisou pada 19 Februari 1977 dengan jauh lemparan 22.50 meter.
Illona Slupianek dari German Timur di Postdam pada 11 Mei 1980 dengan jauh lemparan 22.45 meter.
Cloudia Losch dari German Barat di Hainfeld pada 23 Agustur dengan jauh lemparan 22.19 meter.
Ivanka Khristova dari Bugaria di Belmeken pada 4 Juli 1976 dengan jauh lemparan 21.89 meter.