Pasti kamu suka kan, melakukan olahraga bola basket? Tapi apa kamu udah mengenal bagaimana sejarah, hingga aturan yang ada pada permainan bola basket?
Jika belum, coba simak artikel berikut.
---
Pengertian Bola Basket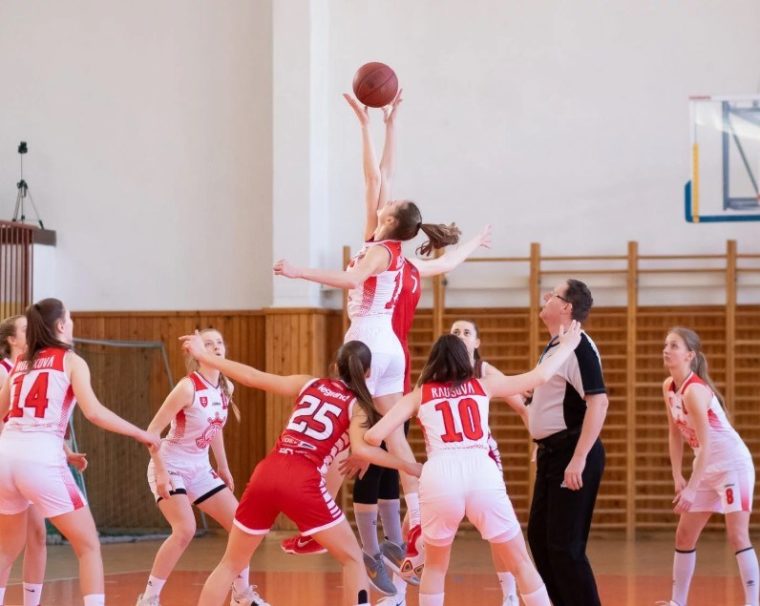 Bola basket merupakan olahraga yang dilakukan secara berkelompok dan dimainkan oleh 2 tim yang saling berlawanan.
Masing – masing tim mempunyai 5 orang anggota dan setiap tim harus berusaha mencetak poin sebanyak – banyaknya dengan cara memasukkan bola ke dalam ring lawan.
Dalam standar Internasional, permainan bola basket yaitu 4 babak dan waktu di setiap babak adalah 10 menit (4 x 10 menit), dengan jeda waktu istirahat 10 menit.
Tapi, khusus buat NBA berbeda, peraturan permainan bola basket NBA memakai format waktu 12 menit pada setiap babaknya yaitu (4 x 12 menit.
Aturan permainan bola basket di Indonesia sendiri mengikuti peraturan standar Internasional yaitu 4 x 10 menit di setiap babak.
---
Sejarah Bola Basket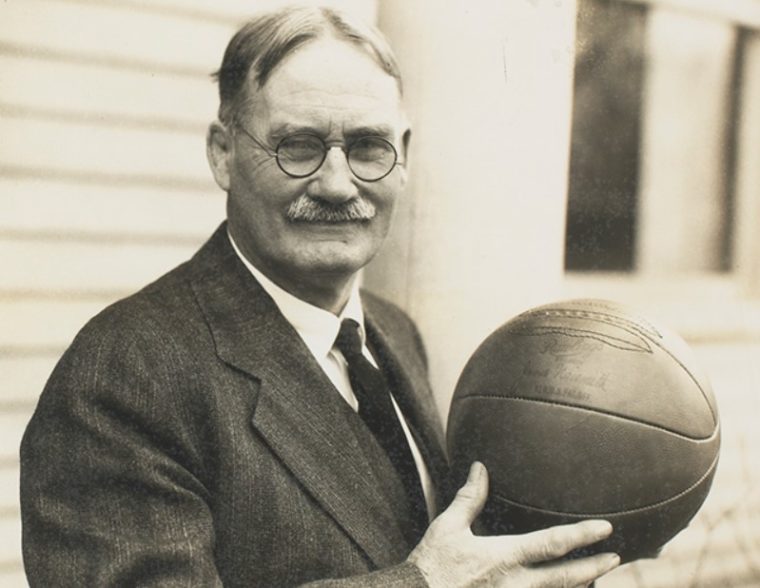 Pada tahun 1891, seorang guru olahraga yang bernama James Naismith menciptakan permainan yaitu basket.
Saat itu, James ingin membuat sebuah permainan yang bisa dimainkan oleh muridnya dalam ruangan tertutup selama musim dingin.
James terinspirasi dari permainan pada masa kecil dan mulai menciptakan olahraga yang bernama basket dan basket sangat beda sekali dengan yang sekarang.
James cuma membuat beberapa peraturan dasar aja, supaya bisa diterima oleh banyak orang disekitarnya.
Aturan tersebut yaitu setiap tim terdiri dari 9 orang pemain dan gak adanya teknik tribble. Jadi, saat itu penggiringan bolanya cuma dilakukan dengan cara melempar.
Seiring berjalannya waktu, permainan ini terus berkembang dan mulai dinamakan sebagai Basketball. Basketball juga menyebar di Amerika dan berkembang pesat di seluruh dunia sampai sekarang.
Di wilayah Asia, Cina termasuk salah satu negara pertama yang mulai mengenal olahraga basket, selain Jepang dan Filipina.
Pada tahun 1920an, orang – orang Cina merantau ke Indonesia dan secara gak langsung ikut memperkenalkan olahraga basket tersebut.
Lalu tahun 1930an, perkumpulan – perkumpulan basket mulai bermunculan di berbagai kota di Indonesia, mulai dari Jakarta, Bandung, Yogyakarta, Surabaya, sampai Medan.
Permainan bola Basket kemudian semakin berkembang pesat setelah Indonesia merdeka di tahun 1945.
---
Peraturan Permainan Bola Basket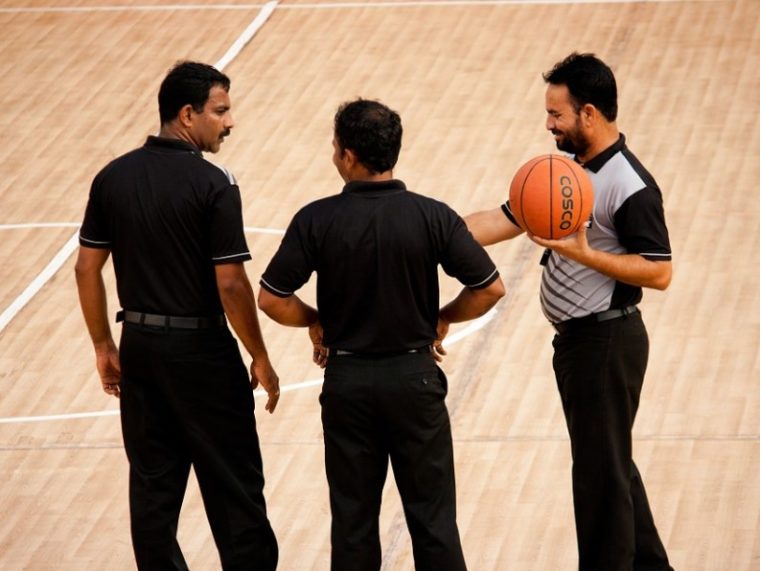 1. Pemain
Setiap tim terdiri dari 5 orang pemain dan beberapa orang sebagai cadangan pemain. Tim biasanya dibagi jadi 3 yaitu pemain depan, tengah dan belakang.
Pemain depan tugasnya buat menyerang dan menghalangi tim lawan saat akan menerobos pertahanan.
Pemain tengah tugasnya buat memberikan umpan dan menghalau serangan dari lawan.
Pemain belakang tugas utamanya melakukan pertahanan dan sesekali memberikan umpan ke teman satu timnya.
2. Skor dan Durasi Pertandingan
Durasi permainan bola basket menurut Federasi Bola Basket Internasional (FIBA) yaitu 4 x 10 menit. Sedangkan, aturan National Basketball Association (NBA) yaitu 4 x 12 menit.
Dan tiap pergantian babak, ada jeda waktu buat pemain istirahat selama 10 menit.
3. Aturan Waktu Membawa Bola
Persatuan Bola Basket Seluruh Indonesia (PERBASI) mengelurkan beberapa aturan mengenai waktu dalam menguasai bola basket.
a. Peraturan 3 detik
Saat tim sedang menguasai bola, pemain cuma bolah ada didalam area terlarang lawan selama 3 detik. Kalo lebih dari 3 detik, maka akan dianggap sebagai pelanggaran.
b. Peraturan 8 detik
Pemain boleh mempertahankan bola di daerah timnya sendiri, tapi dengan batasan waktu selama 8 detik aja.
Kalo bola masih ada di daerah pertahanan tim melewati 8 detik, maka akan dianggap sebagai pelanggaran.
c. Peraturan 24 detik
Pemain bola basket dalam permainan boleh melakukan serangan cuma dalam waktu 24 detik, sebelum bola menyentuh ring.
Kalo penyerangan dilakukan lebih dari waktu yang ditentukan 24 detik, maka tim akan dinyatakan melakukan pelanggaran.
4. Aturan Main Lainnya
Pemain dilarang melakukan double dribble. Jadi, setelah menggiring dan berhenti di satu titik (bola udah ditangkap/dipegang dengan kedua tangan), pemain dilarang kembali melakukan dribble.
Toleransi jumlah pelanggaran yang dilakukan oleh setiap pemain yaitu 4 kali. Saat melakukan pelanggaran yang ke 5, pemain bisa didiskualifikasi.
Pemain boleh melemparkan bola dengan teknik apa aja, tapi dilarang memukul dengan cara meninju.
Pemain dilarang berlari sambil membawa atau memegang bola dan pemain harus menggiring bola dengan cara mendribble.
---
Teknik Dasar Permainan Bola Basket
1. Teknik Dasar Memegang Bola Basket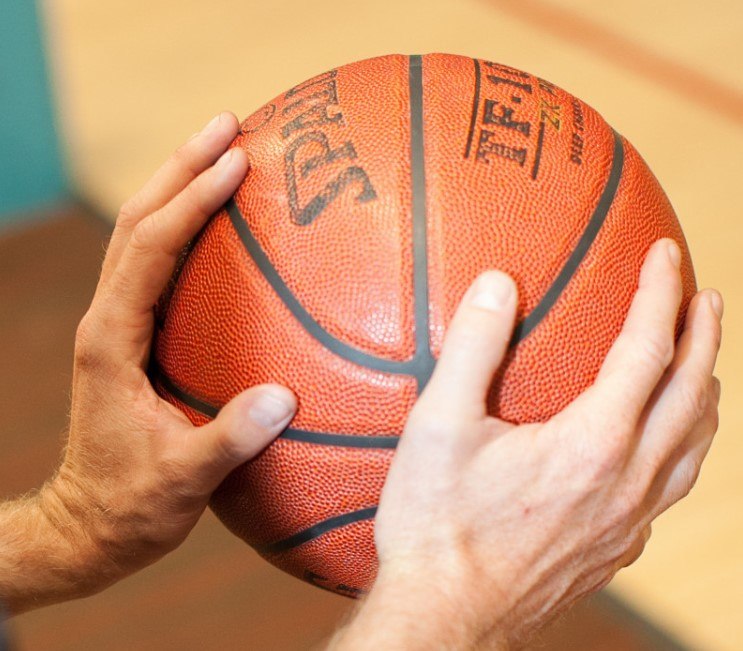 Ada tekniknya sendiri supaya bola bisa kamu kontrol dengan baik, baik itu saat kamu mengumpan ke teman atau menerima umpan.
Caranya:
Pertama, pakai kedua tangan buat memegang basket
Asumsikan saat memegang bola seakan-akan memegang mangkok besar. Jadi, ruas – ruas jari dan telapak tangan terbuka lebar dan melekat pada bola
Posisikan kedua telapak tangan samping di kanan dan kiri (berada agak ke belakang bola)
Buka lebar kedua kaki dengan posisi salah satu kaki berada agak ke depan (dibuat senyaman mungkin)
Condongkan badan sedikit ke depan
Buat posisi badan serileks mungkin saat memegang bola.
2. Teknik Dasar Passing dan Catching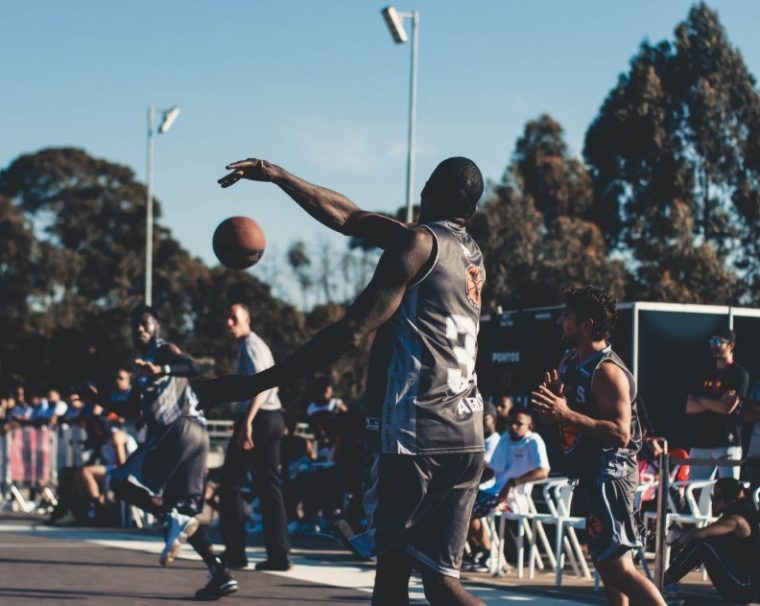 Ada beberapa teknik passing atau mengoper bola dalam permainan bola basket yang berbeda, diantaranya sebagai berikut:
a. Teknik Chess Pass
Teknik ini adalah gerakan melempar bola dari posisi bola setinggi dada dan pakailah lemparan dua tangan buat menghasilkan lemparan yang lurus dan terarah.
b. Teknik Overhead Pass
Passing ini dilakukan dengan cara kedua tangan ada di atas dan penerima bola juga harus menerimanya dengan posisi tangan di atas kepala.

Selain itu, teknik overhead pass juga bisa dipakai saat kamu ingin membebaskan diri dari kawalan ketat dari pemain lawan.
c. Teknik Bounce Pass
Teknik bounce pass adalah gerakan melempar bola dengan cara memantulkan bola ke lantai menuju kawan.

Tujuan teknik bounce pass yaitu buat bisa menghindari hadangan lawan dan bisa mengumpan ke arah kawan dengan akurat.
d. Teknik Baseball Pass
Teknik baseball pass adalah gerakan melempar bola dengan posisi bola ada diatas atau di belakang kepala kamu.

Buat melakukan teknik baseball pass, tangan kamu harus kuat agar hasil lemparannya maksimal dan baik. Teknik ini bisa dipakai buat mengelabuhi lawan.
e. Teknik Behind Back Pass
Teknik behind back pass yaitu gerakan melempar bola dari belakang badan yang dipantulkan ke lantai menuju kawan. Gerakan ini hampir sama dengan gerakan bounce pass.
f. Teknik Hook Pass
Teknik hook pass yaitu gerakan melempar bola dengan memakai satu tangan, yang mana lengan tangan seakan berbentuk kail pancing.

Buat menghasilkan lemparan umpan yang lebih tinggi, posisi bola bisa diletakkan lebih jauh ke arah pundak kamu.
g. Teknik Under Pass
Pada teknik under pass, bisa dilakukan dari bawah atau bola ada sekitar pinggang dan mengarahkannya lurus pada kawan satu tim yang akan di beri umpan.
3. Teknik Dasar Menggiring Bola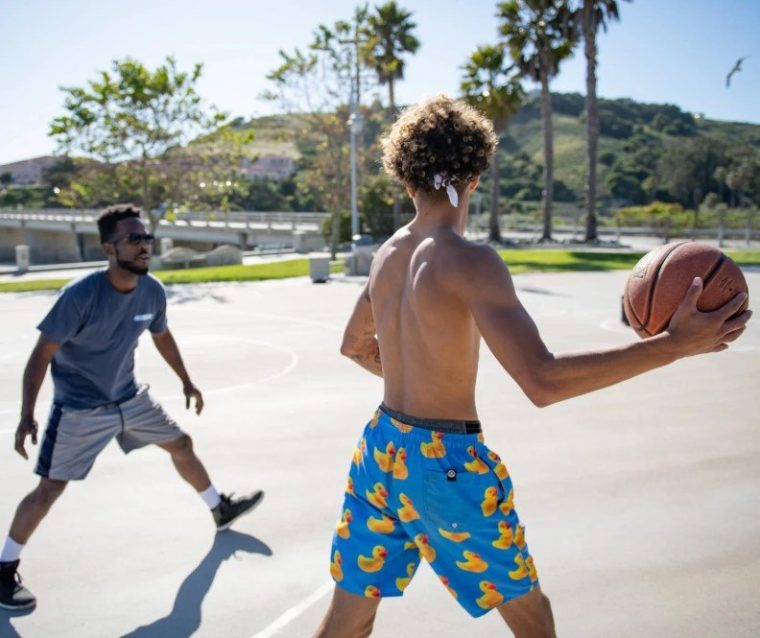 Ada beberapa teknik dasar dalam menggiring bola basket, diantaranya yaitu:
a. Teknik Dribble Bola Tinggi
Teknik ini kamu harus buat melakukan gerakan dribbling dengan kecepatan tinggi. Gerakan ini dipakai pada saat masuk area pertahanan lawan dengan cara berlari atau berjalan cepat.
b. Teknik Dribble Bola Rendah
Teknik ini biasanya dipakai saat berhadapan langsung dengan lawan buat mempertahankan bola saat mau merebutnya.
c. Teknik Spin Dribble
Buat melakukan teknik ini, kamu harus melakukan gerakan spin, jadi diperlukan latihan teratur agar gerakan dribble bisa stabil dan bola jadi lebih mudah buat dikendalikan.
d. Teknik Between the Legs Dribble
Gerakan ini memprioritaskan pada proses dribbling bola dimana posisi bola ditempatkan di depan kaki.

Teknik ini juga termasuk teknik yang cukup sulit buat kamu yang pemula, butuh latihan konsisten buat menguasai teknik ini.
e. Teknik Behind the Back Dribble
Fokus dari teknik ini adalah penempatan bola di belakang pemain, agar bola jadi susah buat direbut oleh lawan. Makanya, butuh skillkhusus buat menguasai gerakan ini.
f. Teknik Crossover Dribble
Gerakan ini berfokus pada posisi menyilang yang dilakukan pemain. Gerakan ini bertujuan buat mengecoh lawan agar susah menebak gerakan kamu.
4. Teknik Dasar Pivot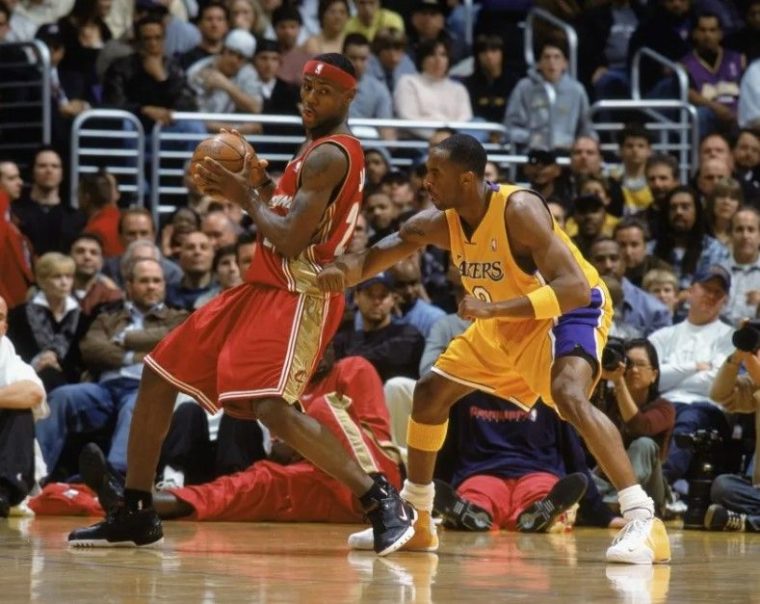 Pivot merupakan gerakan memutarkan badan dengan memakai salah satu kaki sebagai poros putaran dan pivot bisa dilakukan sebelum melakukan teknik dribbling, passing ataupun shooting.
5. Teknik Dasar Shooting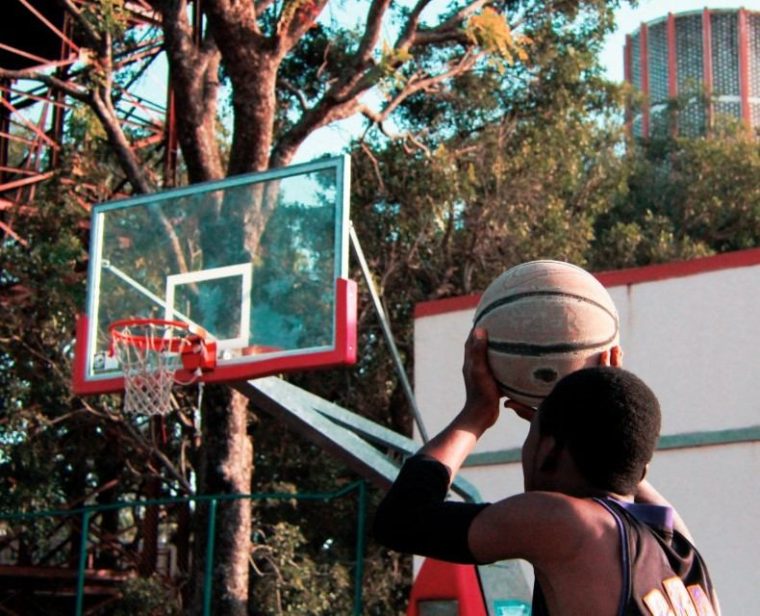 Ada beberapa gerakan shooting yang bisa dilakukan saat permainan basket mulai dari set shoot, jump shoot, lay-up shoot, sampai slam dunk.
a. Set Shoot
Pemain berdiri diam di satu tempat lalu menembakkan bola ke arah ring, bisa dengan satu atau dua tangan. Teknik ini biasanya dilakukan oleh pemain yang sedang terhimpit atau dihadang oleh lawan.
b. Jump Shoot
Pemain menembakkan bola dengan cara melompat dan lompatan yang dilakukan juga harus cukup tinggi, agar bola bisa lebih mudah mengenai sasaran.
c. Lay Up
Lay up merupakan teknik yang menggabungkan 3 gerakan sekaligus yaitu lari, lompat dan menembakkan bola.

Setelah mendribble, pemain melangkah lebar sebanyak 2 kali ke arah ring dan melompat sambil melambungkan bola agar masuk ke keranjang.
d. Slam Dunk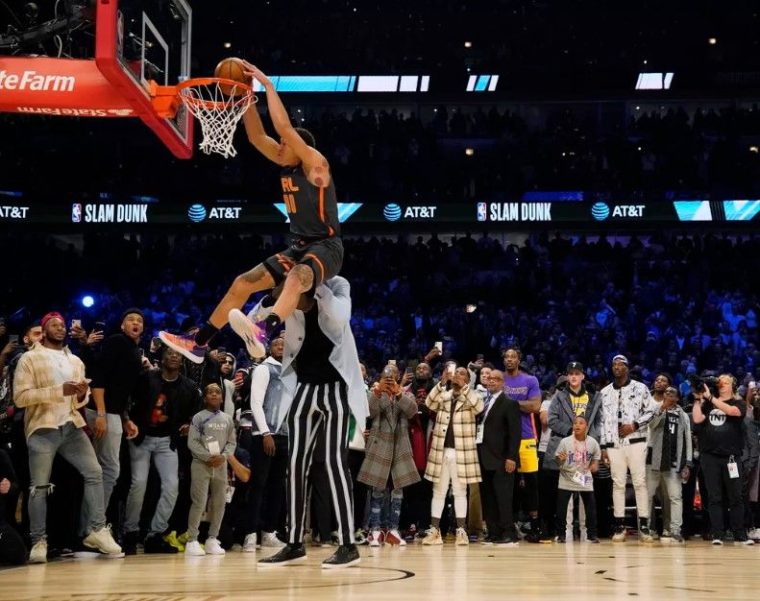 Slam dunk merupakan teknik menembakkan bola dengan cara melompat ke udara.

Pemain harus mampu melompat setinggi mungkin dan memasukkan bola secara langsung ke dalam keranjang. Jadi, bola gak cuma dilempar atau dilambungkan ke arah ring.
6. Teknik Dasar Rebound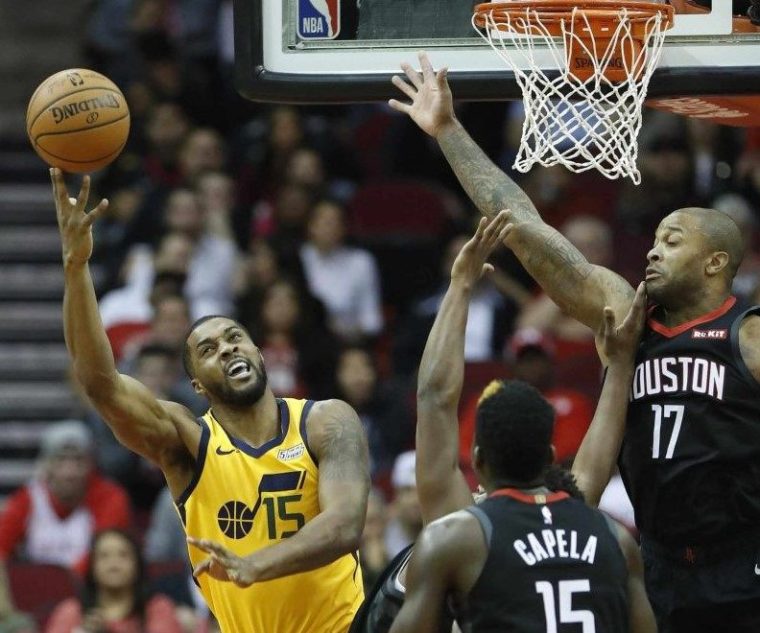 Teknik dasar rebound merupakan salah suatu usaha buat menangkap atau mengambil bola yang datangnya memantul dari arah papan atau keranjang akibat dari tembakan yang gagal.
7. Teknik Dasar Screen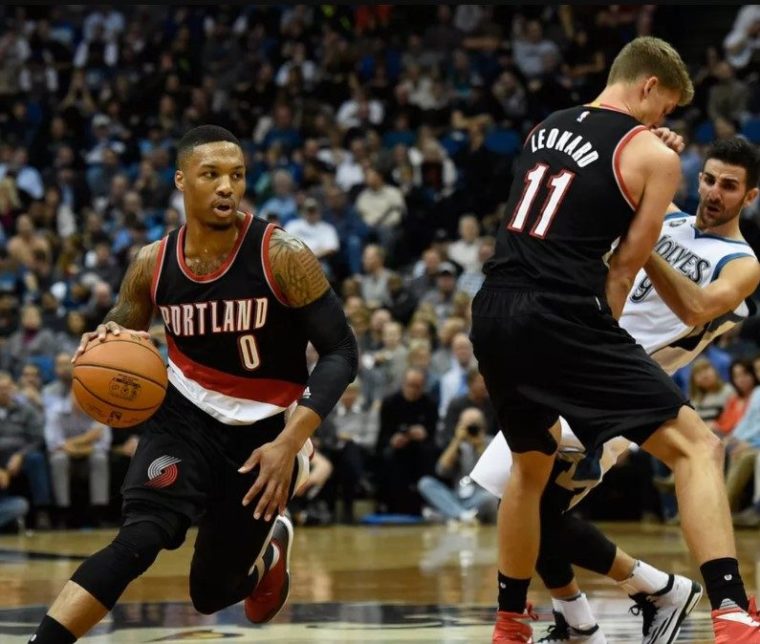 Teknik dasar screen ini merupakan teknik yang dilakukan oleh pemain yang mempunyai tugas sebagai penyerang didalam sebuah permainan bola basket.
Tujuan utama gerakan ini yaitu buat menutup pergerakan dari tim lawan yang melakukan penjagaan pada tim kamu dan membuka jalan buat kawan satu tim, agar bisa melewati belakang pemain lawan.
---
Ukuran Lapangan Bola Basket
1. Ukuran Lapangan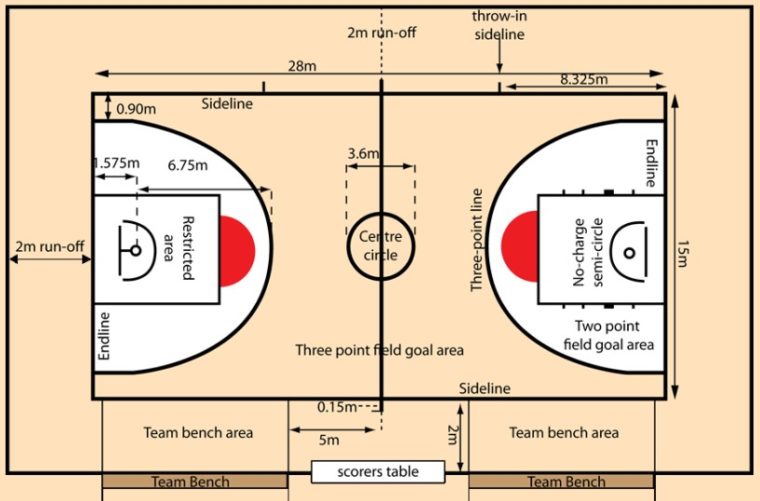 Berikut dibawah ini ada beberapa ukuran standar lapangan basket baik Nasional ataupun Internasional, yaitu:
Ukuran standar lapangan bola basket Internasional (FIBA), yaitu:
Panjang lapangan baket mempunyai ukuran sebesar 28 meter (92 ft)
Lebar lapangan basket mempunyai ukuran sebesar 15 meter (49 ft)
Tinggi ring bola basket sebesar 3,05 meter (10 ft)
Ukuran radius dibatasi busur sebesar 1,25 meter (4,10 ft)
Lingkaran pada pusat lapangan basket diameternya sebesar 3,66 meter (11,81 ft)
Garis lemparan bebas bola, jarak dari titik pada lantai langsung langsung ke bawahbackboard mempunyai ukuran sebesar 4,6 meter (15,09 ft)
Ukuran jarak 3 points garis dari ring mempunyai ukuran 6,75 meter 6,60 meter in corner.
Ukuran standar lapangan bola basket Nasional (PERBASI), yaitu:
Panjang lapangan basket mempunyai ukuran sebesar 29 meter (94 ft)
Lebar lapangan basket mempunyai ukuran sebesar 15 meter (50 ft)
Ketinggian ringbasket 3,05 meter (10 ft)
Ukuran radius dibatasi busur sebesar 1,22 meter (4 ft)
Lingkaran pada pusat lapangan basket diameternya sebesar 3,66 meter (11,81 ft)
Garis lemparan bebas bola, jarak dari titik pada lantai langsung langsung ke bawahbackboard mempunyai ukuran sebesar 4,57 meter (15 ft)
Ukuran jarak 3 points garis dari ring mempunyai ukuran 7,27 meter 6,70 meter in corner.
Buat jarak bangku pemain basket cadangan dan mengawas pertandingan, jaraknya minimal 2 meter.
Ini dilakukan buat memberi tempat kosong saat run off. Sedangkan, jarak bangku penonton ke garis tepi lapangan basket yaitu minimal 5 meter.
Ukuran standar atap stadion lapangan basket internasional yaitu 9,1 meter dari lantai lapangan dan lapangan basket harus mempunyai clearance minimal 7,7 meter.
2. Ukuran Papan Pantul Bola Basket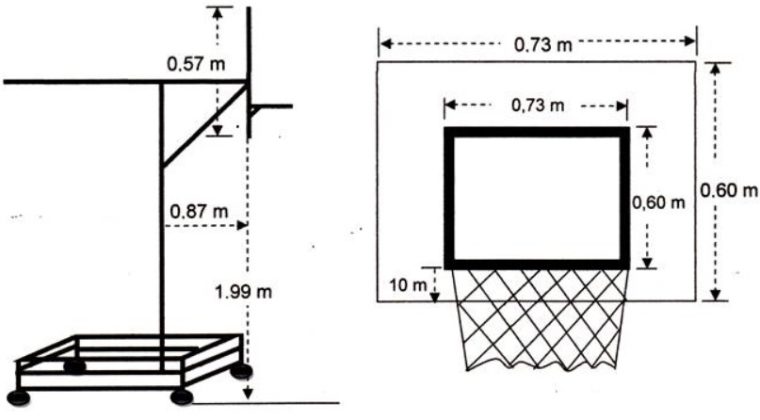 Papan pantul ini terbuat dari bahan yang keras yang diletakkan dibelakang ring buat menghasilkan pantulan bola yang bagus.
Selain itu, papan pantul ini juga dipakai buat mempermudah pemain buat memasukkan bola ke ring dengan teknik pantulan bola.
Ukuran standar papan pantul bola basket, yaitu:
Bagian luar papan pantul mempunyai ukuran panjang dan lebar masing – masing sebesar 1,8 meter dan 1,05 meter
Bagian dalam papan pantul mempunyai ukuran panjang dan lebar masing – masing sebesar 0,59 meter dan 0,45 meter
Ukuran jarak antara papan pantul dengan lantai lapangan yaitu sebesar 2,75 meter
Jarak antara ring basket ke bagian bawah papan pantul sebesar 0,15 meter
Ukuran jarak antara tiang penyangga sampai ke garis akhir yaitu sebesar 1 meter.
3. Ukuran Keranjang Bola Basket (Ring)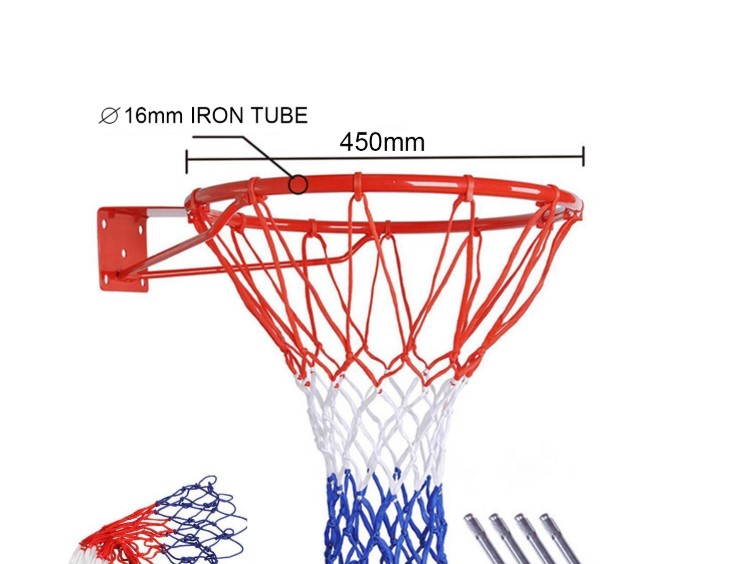 Ukuran keranjang (ring) bola basket, yaitu:
Tinggi ring dari lantai lapangan berukuran sebesar 2,75 meter
Diameter ring berukuran sebesar 0,45 meter
Panjang dari jala ring berukuran sebesar 0,4 meter.
4. Ukuran dan Berat Bola Basket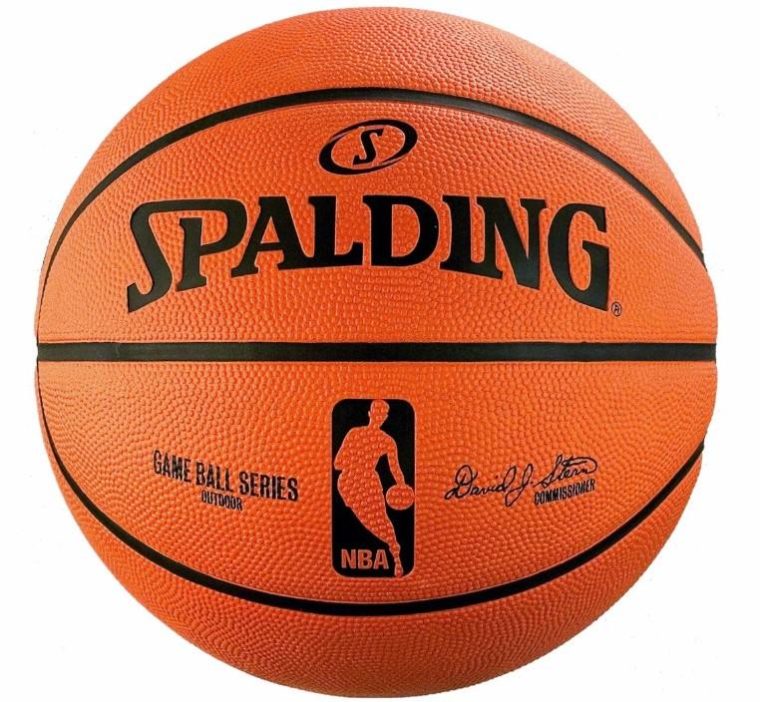 Bola basket yang dipakai pada pertandingan basket terbuat dari karet yang diberi lapisan sejenis kulit di bagian luarnya.
Ukuran dan berat bola basket yang disetujui oleh FIBA, yaitu:
Berat: 567 sampai 650 gram
Keliling bola: 749 sampai 780 mm.
Ukuran dan berat bola basket NBA, yaitu:
Berat bola: 623, 7 gram
Kelilling bola: 749,3 mm sampai 755,65 mm yang di ukur dari garis bola dan kalo diukur dari permukaan bola, maka keliling bola basket harus mencapai 752,5 mm sampai 758,8 mm.
Ukuran dan berat bola basket yang ditetapkan NCAA, yaitu:
Berat bola: 567 sampai 623,7 gram
Keliling bola antara 749,3 sampai 762 mm.
---
Wasit dalam Bola Basket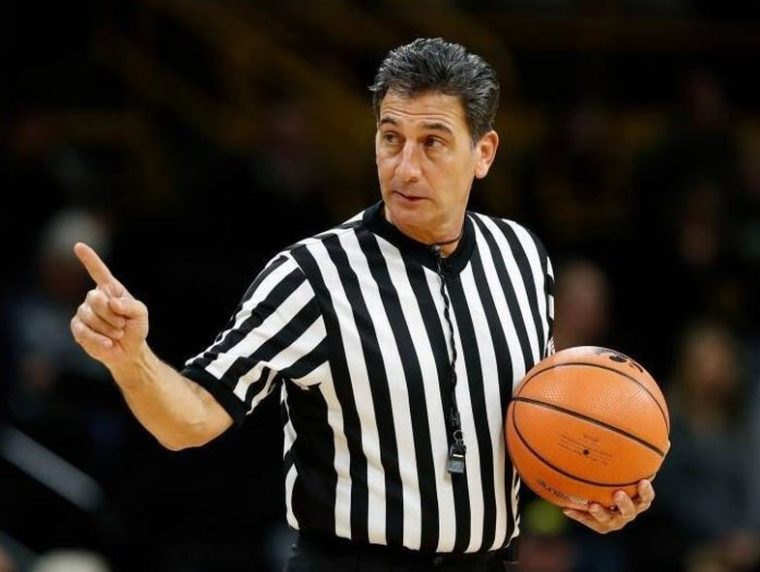 Dalam pertandingan bola basket juga mempunyai wasit yang memandu jalannya pertandingan.
Wasit permainan bola basket, yaitu:
Tiga wasit yaitu wasit yang bertanggung jawab dalam memimpin jalannya pertandingan dan memastikan para pemain memenuhi aturan
Pencatat waktu yaitu yang bertanggung jawab dalam waktu permainan dan waktu diskon dalam permainan basket
Penanda waktu dan pembantu yaitu wasit yang bertugas dalam pengisian buletin permainan dengan jumlah absen tim (tiap pemain), buat mendaftarkan poin yang ditandai
Operator 30 detik yaitu yang bertanggung jawab atas waktu serangan dari kedua tim, karena setiap tim mempunyai waktu cuma 30 detik buat melakukan serangan.
Tugas dan hak wasit bola basket, yaitu:
Melaporkan ke wasit pembantu apabila terjadi pelanggaran berturut – turut
Berhak mendiskualifikasi pemain yang melakukan pelanggaran tertentu
Memperhatikan pergerakan bola
Berhak mengambil keputusan, baik saat pergantian kepemilikan bola atau saat bola udah dianggap keluar lapangan
Menghitung waktu dan banyaknya gol yang berhasil didapatkan
Memperhatikan dengan seksama permainan yang dimainkan oleh kedua tim yang bertanding
Mencatat semua pelanggaran yang dilakukan pemain.
---
Posisi Pemain Bola Basket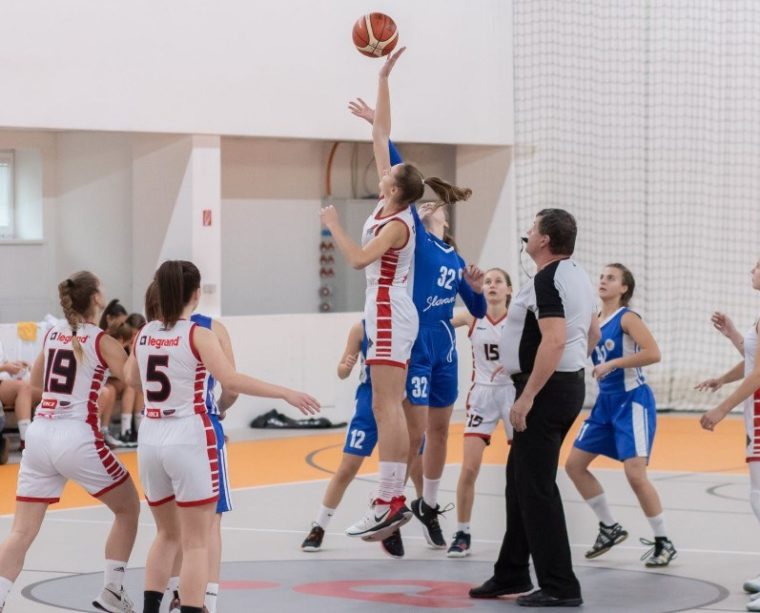 Dalam sebuah permainan bola basket, ada 3 formasi pemain basket yang mempunyai tugas di posisinya masing – masing.
1. Defence
Tugas dari penjaga belakang, yaitu:
Mempertahankan area tim kawan dari serangan tim lawan
Ikut maju ke depan buat membantu penyerangan pada tim lawan
Memberi umpan kepada kawan satu tim
Melakukan tembakan ke ring lawan.
2. Playmaker
Tugas dari pemain tengah, yaitu:
Melakukan blocking terhadap tim lawan saat akan melakukan tembakan bola
Melakukan gerakan rebound
Menerima umpan tembakan dari kawan satu tim saat berada di area lawan.
3. Forward
Tugas dari pemain depan, yaitu:
Melakukan penyerangan terhadap pertahanan lawan
Ikut membantu pemain belakang dalam menghalangi tim lawan saat lawan melakukan penyerangan.
---
Pola Pertahanan Permainan Bola Basket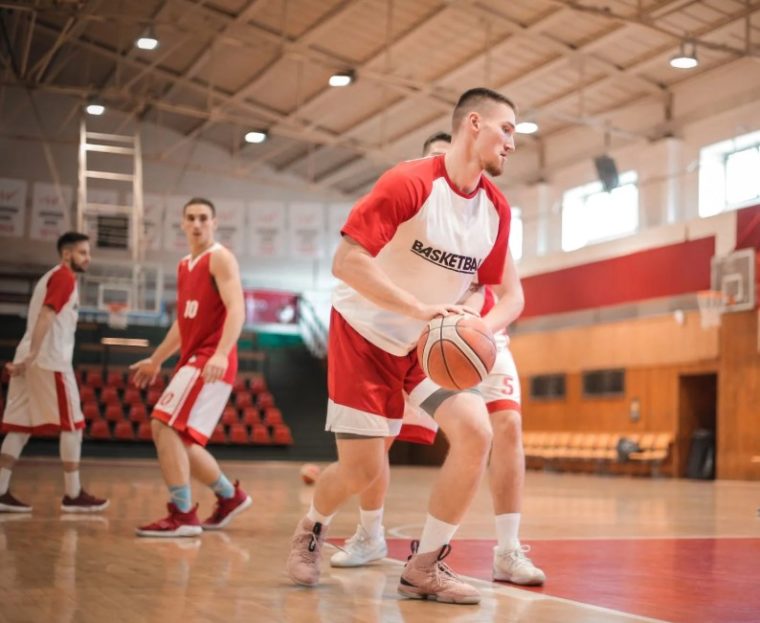 Taktik atau pola pertahanan yang satu ini dibuat bertujuan buat mempertahankan area kawan saat datang serangan dari lawan.
1. Sikap Jaga
Sikap jaga yaitu dengan menekuk kedua lutut serta memposisikan badan sedikit condong ke depan dengan postur punggung agak lurus.
2. Olah Kaki
Olah kaki dilakukan buat memenangkan langkah saat dalam posisi bertahan
Berikut ini beberapa poin yang perlu diperhatikan buat melakukan pola ini, yaitu:
Jangan melakukan langkah silang
Ambil jarak selangkah lebih cepat saat mengikuti penggiring
Jangan coba meloncat sebelum pemain lawan melakukan loncatan dulu. Buat mengantisipasi tipuan gerakan dari lawan, bisa dengan mengawasi pinggang lawan.
---
Pola Penyerangan Permainan Bola Basket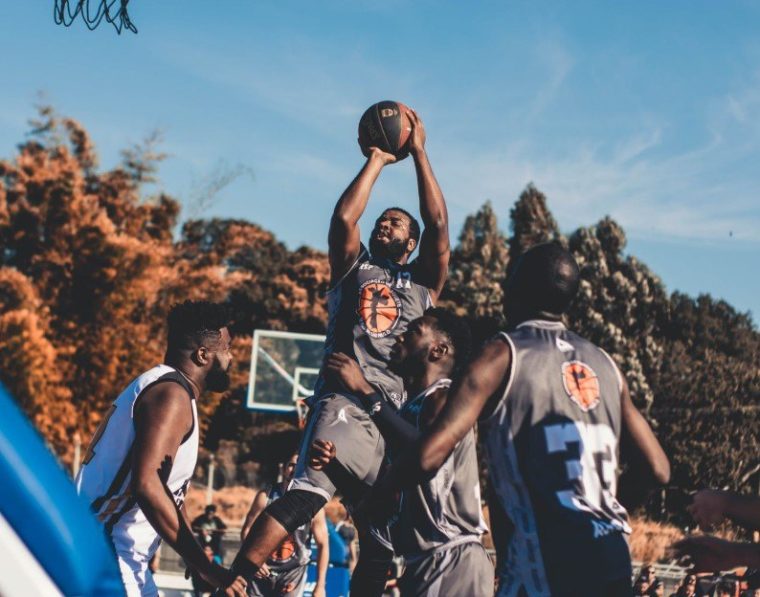 Pola penyerangan dibuat buat menerobos daerah pertahanan lawan yang ketat, jadi nantinya bisa mencetak angka buat tim kamu.
1. Penyerangan Bebas
Materi bola basket yang satu ini bergantung pada penguasaan teknik, taktik, dan ketahanan fisik anggota tim kawan dan polanya bebas.
Meski dengan penyerangan bebas, penyerangan gak bisa dilakukan secara individual dan harus ada kerjasama tim.
2. Penyerangan Kilat
Penyerangan kilat yaitu dimana setelah 2 atau 3 orang operan sudah harus melakukan tembakan.
Tujuannya buat mendapatkan posisi tembakan yang baik saat lawan belum sempat berjaga dan pola ini sangat bagus dilakukan buat mempora-porandakan pertahanan lawan.
3. Penyerangan Kilat Berpola
Penyerangan kilat berpola yaitu serangan yang dimulai dengan adanya situasi-situasi tertentu seperti saat bola loncat, lemparan ke dalam, atau setelah melakukan penjagaan areanya sendiri pada saat bertahan.
4. Penyerangan Berpola
Penyerangan berpola yaitu peyerangan yang dilakukan dengan strategi matang, dengan cara mengatur tugas-tugas dari anggota tim dan menguasai teknik – teknik tertentu juga.
Taktik ini mempunyai tujuan buat memperlambat tempo permainan atau bisa juga buat menembus pertahanan lawan yang kokoh.
---
Manfaat Olahraga Bola Basket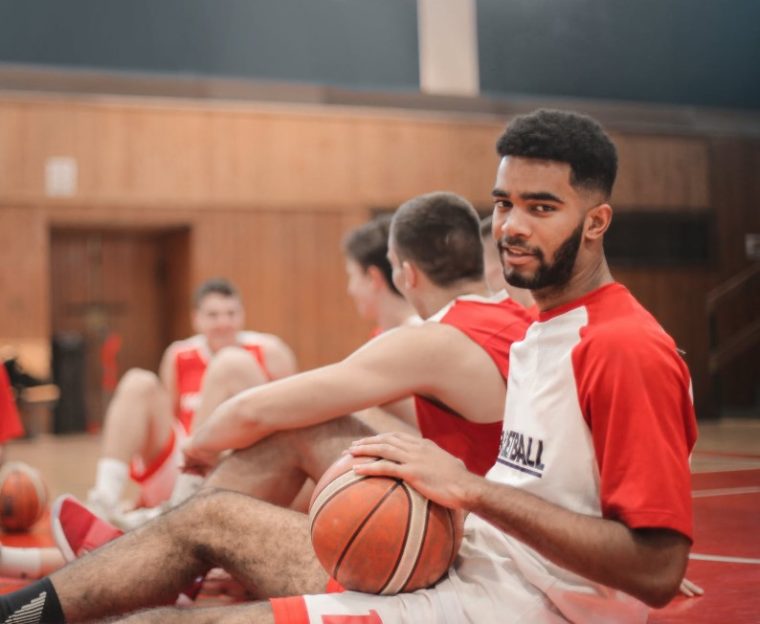 Berikut dibawah ini, ada beberapa manfaat dari olahraga bola basket yang harus kamu ketahui loh, yaitu
Meningkatkan sistem kekebalan tubuh kamu
Menyeimbangkan fungsi kinerja dari sistem tubuh kamu
Menjadikan tubuh lebih bugar, lincah, dan kuat
Meningkatkan kemampuan motorik kamu
Mengurangi hormon stress di otak kamu
Melenturkan tubuh
Meningkatkan ketangkasan dari tubuh kamu
Menstabilisasikan hormon tubuh kamu
Turut berperan mengurangi berat badan
Baik buat kesehatan jantung
Menajamkan konsentrasi otak
Turut membantu membentuk tubuh ideal
Mengurangi resiko terkena osteoporosis.
Itulah pembasahan terlengkap mengenai bola basket 😀