Futsal yaitu salah satu cabang olahraga dari permainan bola besar yang dimainkan dengan sistem beregu, dengan 5 pemain inti dan 7 pemain cadangan di setiap regu.
Mempunyai tujuan buat mencetak skor sebanyak – banyaknya ke dalam gawang lawan dan mempertahankan gawang sendiri dari serangan lawan.
---
Pengertian Futsal Menurut Para Ahli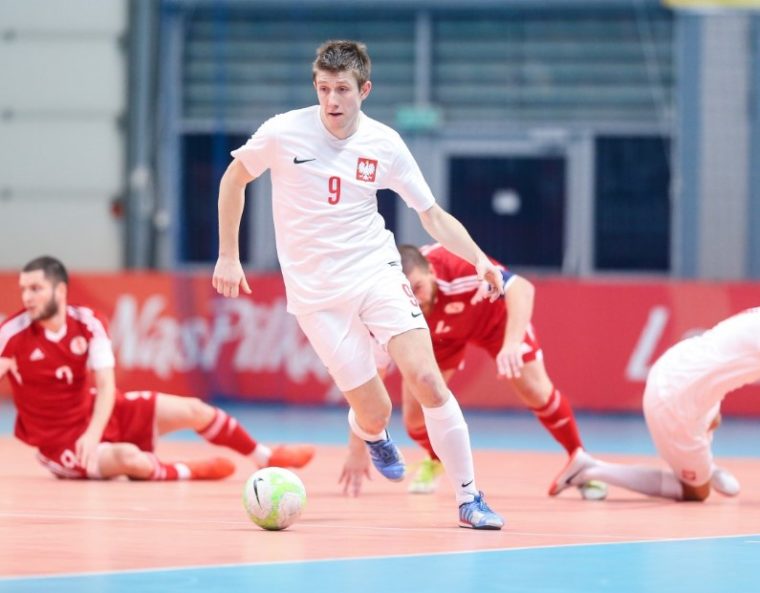 1. Kamus Pintar Futsal
Futsal merupakan permainan bola yang dimainkan oleh 2 regu dengan 5 anggota di setiap regu dan tujuannya memasukkan bola ke gawang lawan.
2. Roeslan Hatta
Permainan futsal yaitu sepak bola mini yang dipertandingkan dalam sebuah ruangan dengan panjang lapangan 38 sampai dengan 42 meter dan lebar 15 sampai 25 meter.
3. Dendy Sugono
Futsal merupakan olahraga sepak bola dengan lapangan dan gawang lebih kecil yang dimainkan di lapangan yang cukup besar dengan masing – masing tim beranggota 5 orang pemain inti.
4. John D. Tenang
Futsal merupakan permainan bola yang dimainkan oleh 2 regu, yang masing – masing beranggota 5 orang. Selain lima pemain utama, setiap regu juga diizinkan mempunyai pemain cadangan.
5. Justinus Lhaksana
Futsal merupakan permainan bola yang dimainkan secara cepat dengan segi lapangan yang kecil.
---
Sejarah Futsal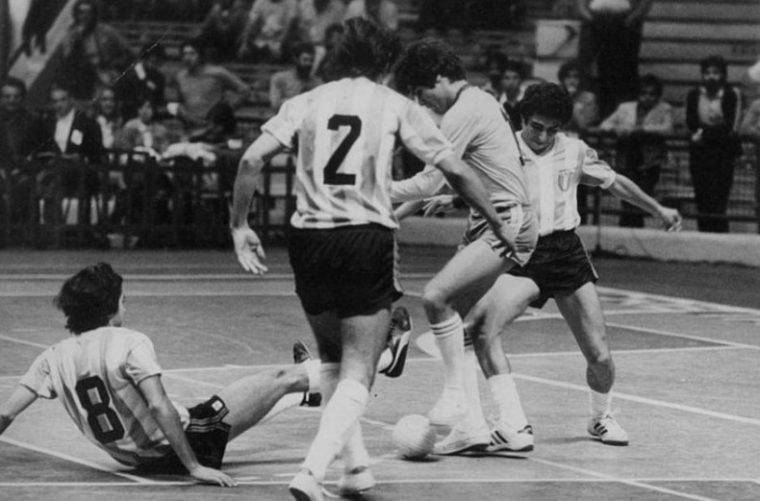 Futsal berasal dari Bahasa Spanyol dari kata Futbol (sepak bola) dan Sala (ruangan). Kalo 2 kata tersebut digabung, maka jadi Sepak Bola dalam ruangan (Futsal).
Olahraga Futsal ini pertama kali dipopulerkan oleh Juan Carlos Ceriani Gravier yang seorang guru olahraga di Montevideo, Uruguay tahun 1930.
Tapi, kondisi pada saat itu gak memungkinkan buat melakukan latihan di luar karena mereka di terpa hujan yang sangat deras.
Juan menghentikan latihan itu dan dia pun terpikir buat mengadakan latihan pada murid – muridnya di dalam ruangan.
Karena, ruangan yang kecil dan gak memungkinkan buat 11 lawan 11, dia menyuruh muridnya buat 5 lawan 5 secara bergantian.
Dari situlah, Juan berpikir untuk membuat olahraga sendiri yang diberi nama futsal dengan peraturan 5 lawan 5 di dalam ruangan kecil.
Olahraga futsal semakin terkenal di seluruh Benua Amerika Selatan, Brazil sebagai negara yang banyak melahirkan pemain bintang dan sering menjuarai kompetisi – kompetisi.
Akhirnya, olahraga futsal diakui oleh FIFA dan mengadakan kejuaraan dunia pertama pada tahun 1989 di Rotterdam, Belanda dan yang jadi juara dalam kompetisi tersebut adalah Brazil.
---
Peraturan dalam Permainan Futsal
1. Ukuran Lapangan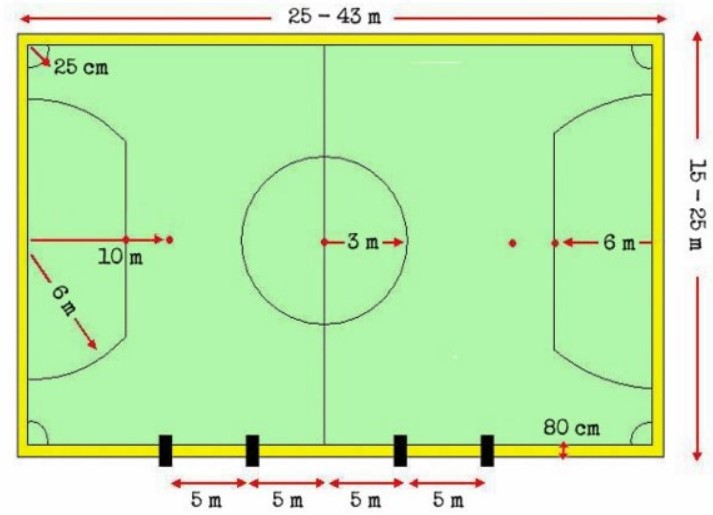 Ukuran lapangan futsal yang berstandar Nasional mempunyai panjang 25 sampai 42 meter dengan lebar 15 meter.
Ukuran lapangan futsal berstandar Internasional mempunyai panjang 38 sampai 42 meter dengan lebar 16 sampai 25 meter.
Permukaan lapangan futsal harus halus dan merata.
Disarankan lantai lapangan futsal terbuat dari kayu atau lantai parkit dan gak memakai bahan beton.
Titik pusat ditandai dengan cat yang berada di tengah – tengah lapangan.
Garis batang lapangan mempunyai lebar 8 cm meliputi garis samping, garis melintang ditengah lapangan dan garis gawang.
2. Ukuran Gawang Futsal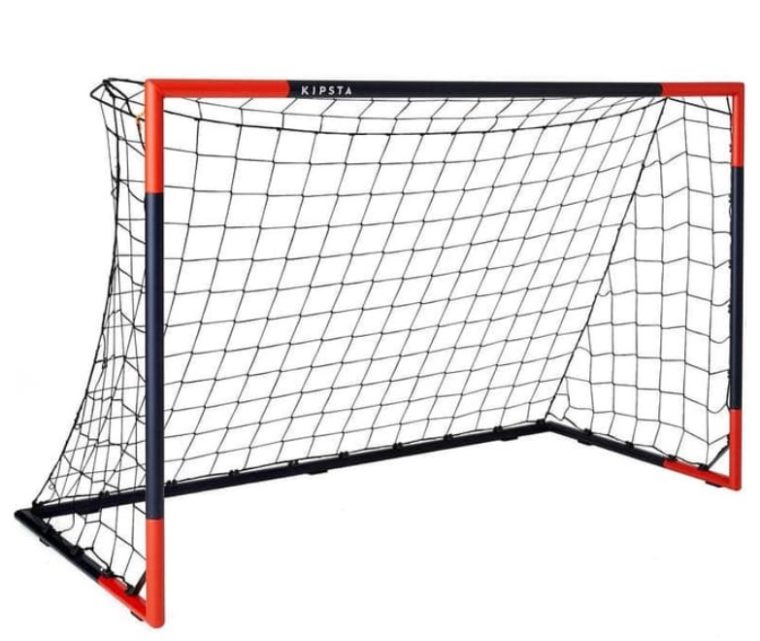 Setengah lingkaran dengan jari – jari kurang lebih 6 meter sebagai pusat dari tiap – tiap gawang.
Jarak titik pinalty yaitu 6 meter dari titik tengah gawang.
Jarak titik penalty kedua yaitu 10 meter dari titik tengah garis gawang.
Posisi gawang harus ada di tengah – tengah garis gawang.
Ukuran gawang futsal mempunyaii lebar 3 meter dengan tinggi gawang 2 meter.
Tiang gawang terbuat dari besi atau logam.
Warna tiang dan mistar gawang harus beda dengan warna lapangan.
Jaring gawang terbuat dari nilon yang dikaitkan dengan tiang dan mistar gawang.
Busur tendangan sudut dengan radius 25 cm pada setiap sudut lapangan olahraga futsal.
3. Bola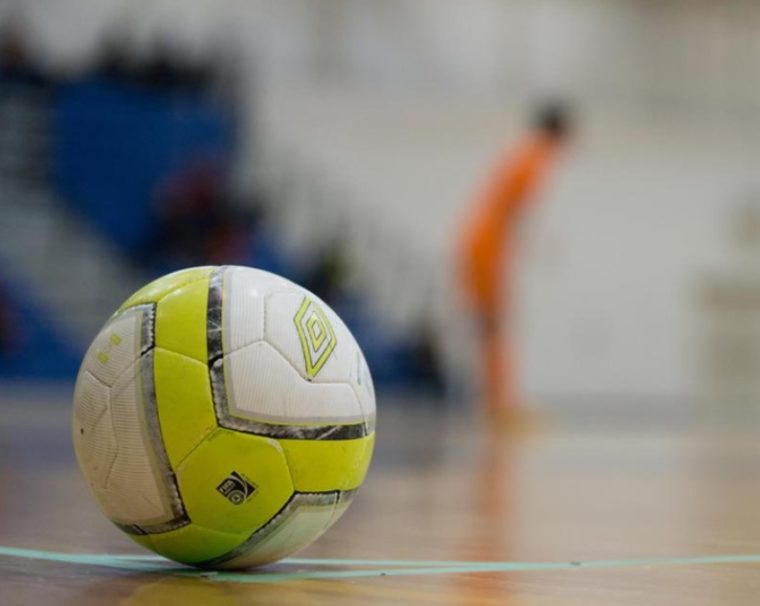 Ukuran bola buat permainan futsal kira – kira 4
Lingkar pada bola futsal sekitar 62 sampai 64 cm
Berat bola futsal kira – kira 0,4 sampai 0,44 kg
Kekuatan Jumping sekitar 55 sampai 65 cm pada refleksi pertama
Bahan pada bola futsal tersebut terbuat dari kulit atau bahan lain yang sesuai (material yang gak berbahaya).
4. Wasit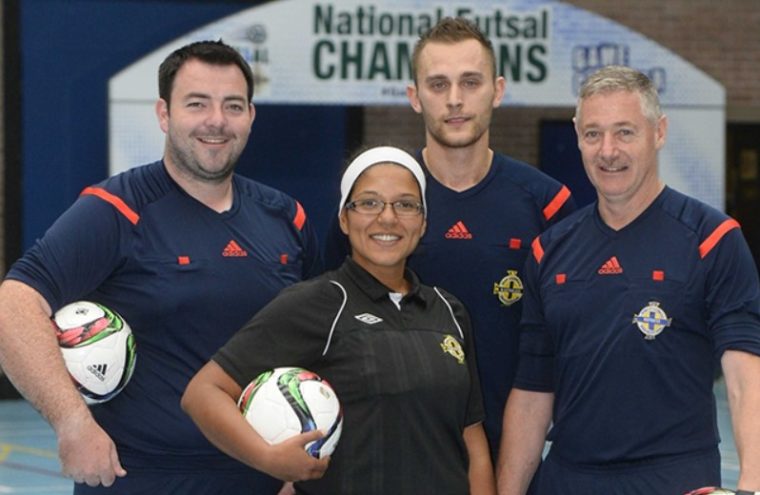 Dalam sebuah olahraga futsal resmi, ada 4 orang wasit yang mengatur jalannya pertandingan futsal, supaya berjalan lancar yaitu:
a. Wasit Utama atau Main Referee
Tugas utamanya buat:
Meluruskan peraturan pertandingan futsal yang berlaku dengan setegas – tegasnya.
Mengecek lapangan serta bola futsal yang akan dipakai telah sesuai dengan peraturan sebelum pertandingan dimulai.
Memberikan hukuman buat para pemain futsal yang melakukan pelanggaran, baik ringan atau berat.
Mencatat apapun yang terjadi didalam lapangan saat pertandingan sedang berlangsung.
Mengecek para pemain futsal udah memakai perlengkapan sesuai dengan peraturan atau belum.
Memberhentikan jalannya suatu pertandingan, kalo ada pelanggaran atau gangguan dari luar lapangan futsal.
b. Wasit Kedua atau The 2nd Referee
Ada beberapa tugas – tugas utamanya, yaitu:
Tugas utamanya sama dengan wasit utama, cuma aja wasit kedua mengawasi daerah yang berlawanan dengan wasit utama.
c. Wasit Ketiga atau The 3rd Referee
Tugas dari wasit ketiga adalah:
Mempunyai catatan pemain yang ada dalam lapangan.
Mencatat jumlah gol dalam sebuah pertandingan.
Mengawasi pergantian bola.
Mengecek pemain cadangan sebelum masuk ke dalam lapangan.
Mempunyai catatan seluruh pelanggaran yang terjadi dalam pertandingan.
Saat salah satu tim telah melakukan 5 kali pelanggaran, wasit ketiga akan memberikan tanda kepada wasit utama.
d. Penjaga Waktu atau The Timer Keeper
Ada beberapa tugas utama dari penjaga waktu, yaitu:
Mengecek durasi waktu pertandingan futsal yang sesuai dengan peraturan.
Mencacat jumlah gol yang terjadi dalam pertandingan.
Menyalakan alat penghitung waktu saat kick off dimulai.
Memberikan tanda, kalo pertandingan tersebut akan segera berakhir.
Menghentikan alat penghitung waktu saat bola keluar lapangan atau terjadinya pelanggaran.
5. Jumlah Pemain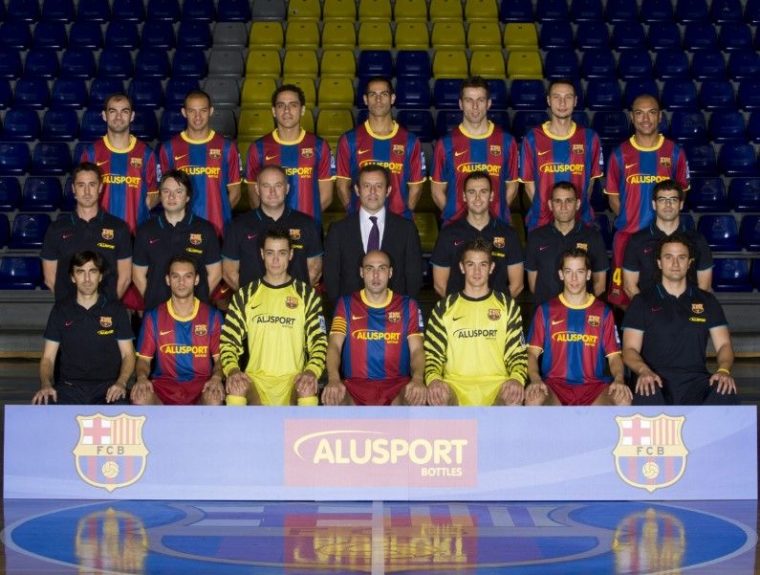 Jumlah pemain dalam satu tim 5 orang pemain.
Jumlah pemain cadangan pada setiap tim berjumlah 7 orang.
Batas jumlah pada permainan futsal gak dibatasi.
Pergantian pemain bisa dilakukan sewaktu – waktu, selama pertandingan masih berlaku.
Penjaga gawang boleh bertukar posisi dengan pemain lainya.
6. Perlengkapan Pemain Futsal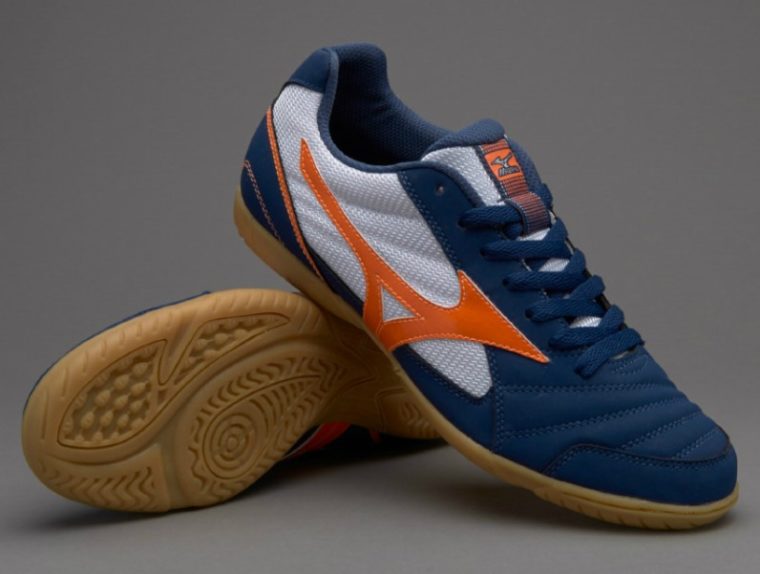 Pemain gak diperkenankan memakai alat apapun yang bisa melukai dirinya dan pemain lain.
Pemain memakai kostum yang memenuhi aturan.
Penjaga gawang boleh memakai celana panjang.
Seragam penjaga gawang harus beda dengan pemain lainnya.
Kalo pemain melakukan kesalahan wasit akan menegur pemain.
7. Waktu Pertandingan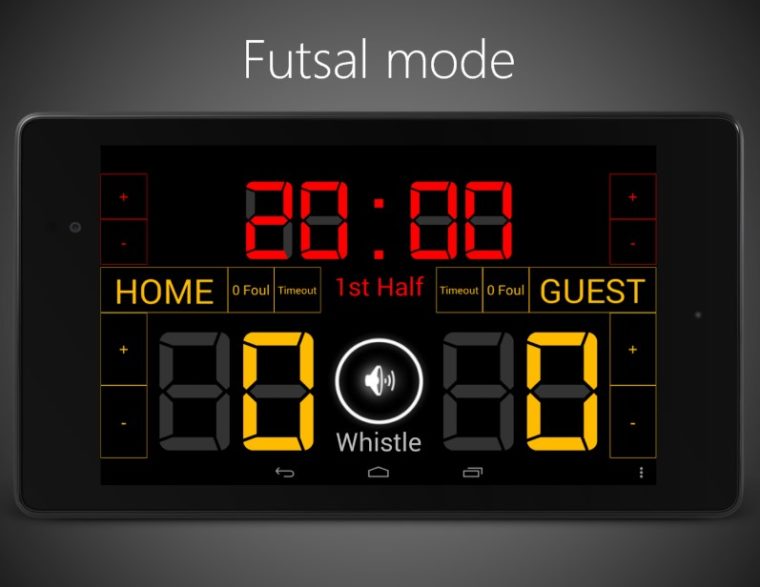 Lama pertandingan futsal yaitu sekitar 2 x 20 menit. Kalo hasil masih imbang, maka ditambah dengan perpanjangan waktu.
Pelatih bisa meminta waktu time – out pada pencatat waktu selama 1 menit dalam satu babak.
Saat time – out diberikan, para pemain harus tetap ada didalam lapangan tersebut.
Jarak waktu istirahat diantara babak adalah 10 menit dan gak boleh melebihi 15  menit.
---
Teknik Dasar Olahraga Futsal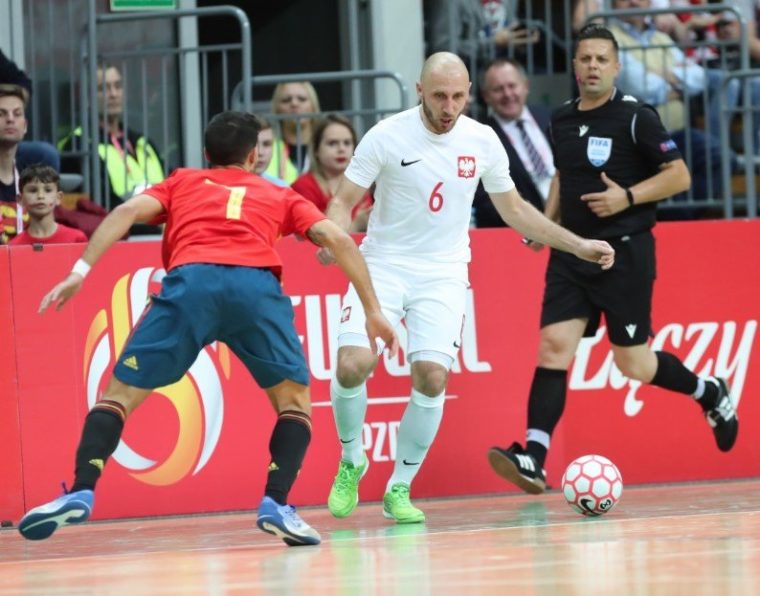 1. Kontrol Bola
Teknik mengendalikan bola dalam permainan futsal bisa dilakukan dengan kaki bagian dalam, kaki luar dan telapak depan kaki dengan memakai telapak sepatu.
Teknik mengendalikan bola dengan telapak sepatu di futsal sangat penting, jadi harus banget dikuasai oleh setiap pemain.
2. Passing (Pengumpan)
Passing bisa dilakukan dengan sisi yang beda – beda dari kaki, yaitu dengan kaki bagian dalam, kaki luar, jari kaki, tumit atau bagian bawah.
Tapi, yang terbaik yaitu memakai kaki bagian dalam dengan arah yang datar atau makan panjang yang akan menyusup tanah, karena pakan akan punya akurasi terbaik dibandingkan dengan orang lain.
3. Dribbling (Menggiring)
Buat mengecoh lawan pemain dalam permainan futsal, pemain futsal harus mempunyai skill atau kemampuan buat Dribble bola.
Berikut ada beberapa teknik buat menggiring bola yang harus kamu kuasai di futsal, diantaranya yaitu:
a. Dribbling dengan Kaki Luar
Dengan memakai teknik ini, kalo dengan kaki kanan pemain futsal bisa pergi ke sisi kiri lawan atau sebaliknya.

Tapi, teknik ini gak bisa menipu lawan ke kanan saat memakai kaki kanan dan sebaliknya.
b. Dribbling dengan Kaki Bagian Dalam
Dengan memakai teknik ini, kamu bisa mengecoh lawan di sebelah kanan lawan saat memakai kaki kanan atau sebaliknya.

Tapi, teknik ini gak bisa menipu lawan ke kiri kalo kamu memakai kaki kanan atau bahkan sebaliknya.
c. Dribbling dengan Bagian Belakang Kaki
Dribbling dengan bagian belakang kaki bisa menggiring bola ke arah lurus, saat gak ada lawan di depan kamu.

Tapi, teknik ini kurang efektif saat kamu mau menipu lawan di sebelah kiri atau kanan.
4. Heading (Menyundul Bola)
Tujuan menyundul bola yaitu buat mengoper, mencetak gol, mematahkan serangan lawan atau membuang bola.
Pemain harus belajar menyundul bola memakai dahi, bukan ubun – ubun kepala. Pemain harus sadar kalo mereka yang akan menyundul bola, bukan bola yang membentur mereka.
5. Tackling (Merebut Bola)
Merampas atau merebut bola yaitu upaya buat merebut bola dari penguasaan lawan dan merampas bola bisa dilakukan dengan sambil berdiri (standing tackling) dan sambil meluncur (sliding tackling).
6. Menendang
Teknik menendang bola keras yang efektif dalam permainan futsal yaitu kaki kamu saat akan menendang bola memakai sepatu futsal.
Karena, dengan teknik menendang ini bola akan berputar cukup cepat dan juga bola akan bergerak lurus dan menukik.
7. Kecepatan
Ciri khas dari permainan futsal yaitu kecepatan, jadi pemain futsal dengan cepat dibebankan, dalam streaming bola, bergerak dalam mencari ruang buat menerima umpan dan bereaksi.
Karena dengan gerakan yang cepat, pemain futsal akan bisa menipu lawan dan dalam perawatan dan juga bisa dengan cepat menyusun formasi yang baik dalam melaksanakan serangan atau pertahanan.
Makanya, kecepatan pemain dalam futsal harus sepenuhnya dikuasai sebagai salah satu teknik dasar dari permainan futsal tersebut.
8. Fisik
Dalam permainan futsal diperlukan banyak gerakan, berjalan pada kecepatan, dibutuhkan fisik yang cocok. Karena, tanpa fisik yang baik sangat sulit pemain futsal buat menjalani permainan dengan kecepatan tinggi.
---
Posisi Pemain Futsal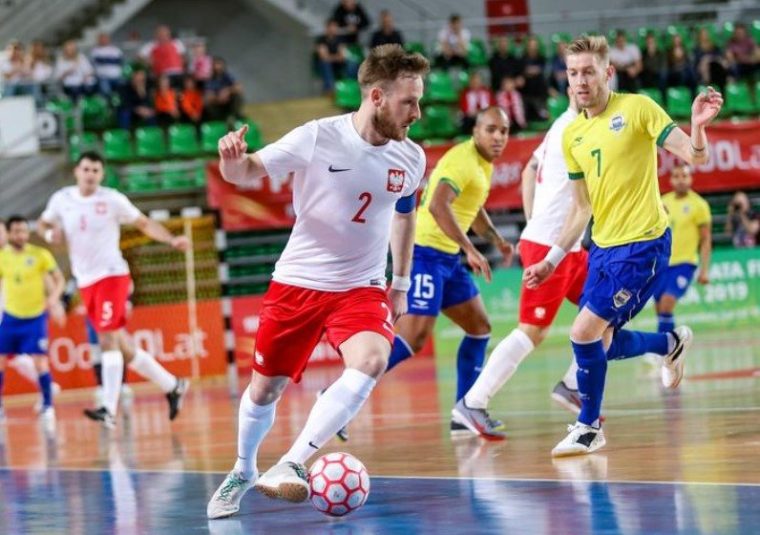 1. Kiper
Kiper harus mempunyai keberanian buat menghadapi bola keras.
Biasanya di futsal, tendangan mempunyai kekuatan buat memakai bola jadi tendangan mereka sulit, meski ada juga pena yang memprioritaskan akurasi sebagai kekuatan.
Jadi, cobalah buat belajar Split atau mendistribusikan kaki ke kanan dan ke kiri, fungsinya buat mengantisipasi bola datar ke kanan dan kiri yang keras.
2. Anchor
Bek atau pemain bertahan terakhir sebelum kiper harus standar dengan bola.
Dalam posisi ini, pemain harus kuat dalam pertahanan, kreatif dalam menjaga kecepatan permainan dan fungsinya sebagai awalan buat serangan dalam tim.
Kalo kamu mempunyai karakteristik tersebut, maka kamu sangat cocok buat bermain di posisi jangkar.
3. Flank
Pemain yang posisi di sayap ini identik dengan pemain kunci, karena gerakan mereka yang bisa mengubah arah permainan.
Mereka terampil dalam ingesis sisir dari sayap dan menawarkan umpan dan bisa jadi solusi akhir. Tapi, di era futsal modern gak cuma menyerang standar, tapi juga harus mampu bertahan dengan baik.
Biasanya panggul mempunyai kecepatan lebih dari rekan setimnya, karena dia harus membela attackingly dan mundur dan pemain dengan kaki kiri ada di sayap kiri.
Jadi, kaki kanan di sayap kanan dan kalo gak satupun dari mereka yang juga dilakukan sebagai tim kamu.
4. Pivot
Posisi pemain ini ada di garis depan dan seperti seorang penyerang murni. Pekerjaan Pivot yaitu buat mematahkan gawang lawan dan membuka peluang buat rekan tim.
Seperti yang saya sebutkan sebelumnya, ia akan memiliki menangkap atau atau pemintalan makanannya harus memiliki keseimbangan tubuh yang kuat.
---
Jenis – Jenis Pelanggaran dalam Futsal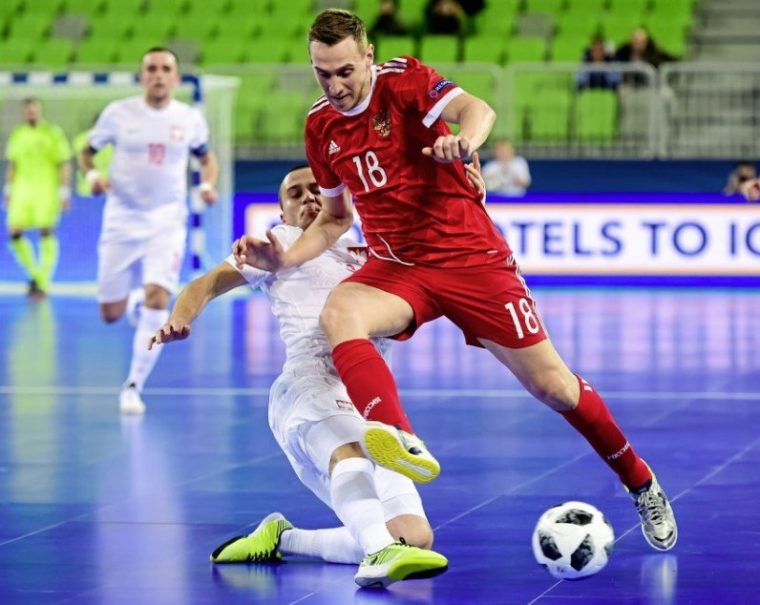 Disini, ada beberapa jenis pelanggaran dalam permainan futsal, diantaranya sebagai berikut ini:
1. Pelanggaran yang Diperingatkan
Bersalah karena kurangnya sportifitas.
Melakukan tindakan dan ucapan yang kurang baik.
Melanggar peraturan yang udah ada.
Mengulur – ngulur waktu.
Masuk kedalam lapangan denagan seenaknya.
Sengaja meninggalkan lapangan tanpa instuksi wasit.
2. Pelanggaran yang Menyebabkan Dikeluarkan
Bermain kurang baik, jadi mencederai lawan.
Melecehkan pemain lawan atau wasit.
Menutup lawan mencetak gol dengan cara yang gak diperbolehkan.
Mendapat kartu kuning sebanyak dua kali.
Melakukan selebrasi yang gak seharusnya.
---
Manfaat Bermain Futsal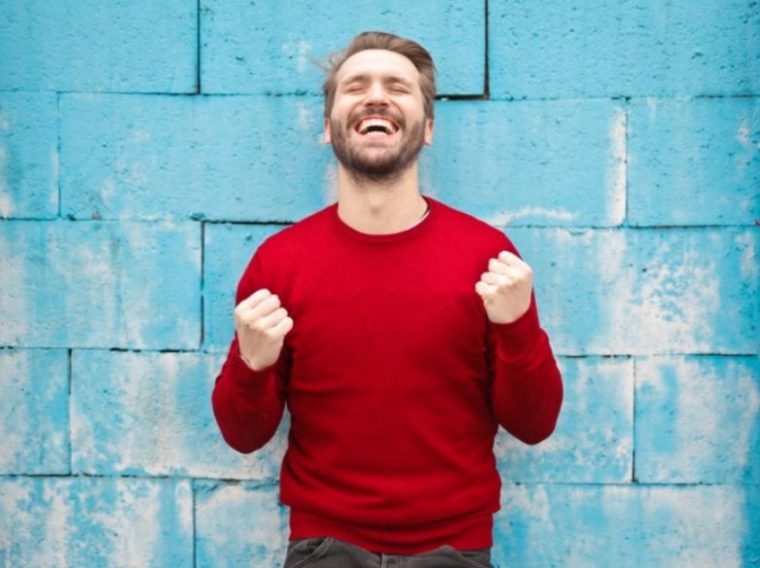 1. Meningkatkan Kesehatan Jantung
Kalo kamu bermain futsal, pasti jantung kamu akan berdetak sangat kencang. Nah, itu akan membuat jantung jadi semakin kuat dan terhindar dari berbagai penyakit jantung atau serangan jantung.
2. Menurunkan Berat Badan
Buat kamu yang kesulitan dalam menurunkan berat badan, bermain futsal adalah solusi yang tepat.
Karena saat melakukan olahraga futsal, tubuh kamu dituntut buat bergerak secara terus – menerus dan akan membakar sejumlah kalori dalam tubuh.
3. Mengeluarkan Racun
Olahraga futsal bisa mengeluarkan keringat dalam jumlah besar kalo kamu bergerak dengan aktif dan racun dalam tubuh akan keluar bersamaan dengan keluarnya keringat.
4. Menguatkan Otot
Futsal merupakan olahraga yang menuntut kamu buat berlari dan menendang dengan keras setiap saat. Dengan melakukannya secara rutin, maka bisa meningkatkan kekuatan otot kaki kamu, loh!
5. Melatih Kekompakan
Futsal merupakan olahraga yang dimainkan dengan sebuah tim. Jadi buat memenangkan pertandingan, sangat dibutuhkan yang namanya kerja sama agar permainan bisa berjalan dengan indah.