MK yaitu salah satu lembaga negara yang punya fungsi buat menangani berbagai perkara tertentu yang terkait dalam bidang dan permasalahan ketatanegaraan.
Yang akan dilaksanakan berdasarkan keinginan dan rasa tanggungjawab yang pas dan sejalan dengan kehendak dari rakyat serta pencapaian dari cita-cita demokrasi di Indonesia.
Keberadaan dari MK yaitu buat menjalin dan menjaga dari pemerintahan dan ketatanegaraan Indonesia yang aman dan stabil.
Itu salah satu bentuk koreksi yang berlaku terhadap pengalaman kehidupan ketatanegaraan Indonesia dimasa lalu, yang muncul akibat tafsir ganda yang berlaku terhadap konstitusi.
Nah, berikut ini ada beberapa hal penting tentang dasar hukum Mahkamah Konstitusi yang perlu diketahui. Apa itu? Simak aja yuk!
---
1. Susunan Mahkamah Konstitusi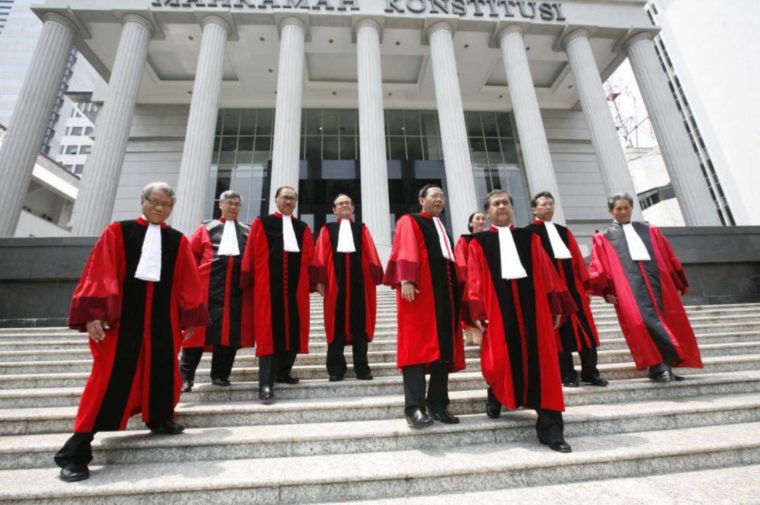 Berdasarkan pada UU RI nomor 24 pada tahun 2003 yang ada di pasal 4 ayat 1, 2, 3, 4, dan 5 yang membahas dan menyatakan tentang susunan dari MK yaitu:
Mahkamah konstitusi punya 9 orang hakim konstitusi yang udah ditetapkan sebelumnya dengan adanya sebuah keputusan yang diambil oleh Presiden.
Susunan MK terdiri dari seroang Ketua yang juga akan merangkap posisinya sebagai seorang anggota juga, Wakil ketua yang juga sama merangkap sebagai seorang anggota dan 7 orang anggota hakim konstitusi lainnnya.
Pemilihan ketua atau wakil ketua berdasarkan keputusan dari hakim konstitusi dengan masa jabatan selama 3 tahun dengan melakukan rapat pemilihan.
---
2. Wewenang Mahkamah Konstitusi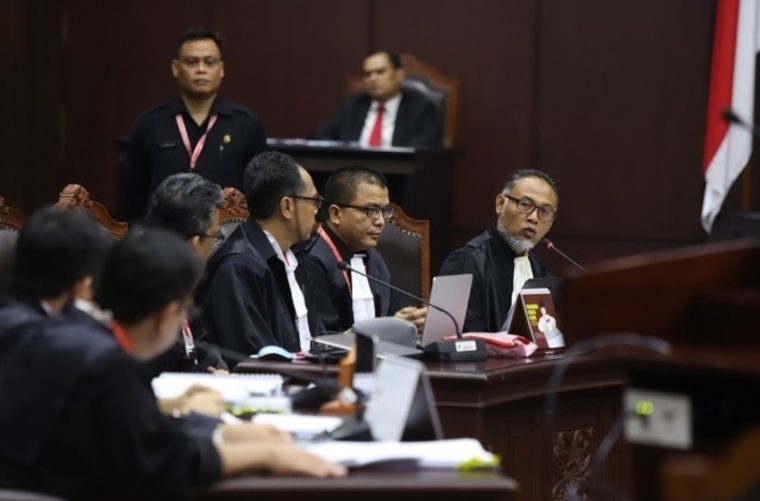 Wewenang MK diatur dialam UU nomor 24 pada tahun 2003 di dalam BAB III yang menyatakan tentang kekuasaan mahkamah konstitusi pada pasal 10 yang menyatakan tentang:
a. Mahkamah konstitusi punya wewenang dalam mengadili di tingkatan pertama dan dalam tingkatan final yang punya keputusan yang bersifat final dan ini berlaku buat:
Pengujian UU terhadap UUD NKRI yang disahkan pada tahun 1945.
Pemutus terjadinya sengketa kewewenangan dari lembaga negara yang kewewenangannya telah diberikan oleh UUD NKRI pada tahun 1945.
Mempunyai kewewenangan buat pembubaran terhadap partai politik.
Lembaga yang nantinya berfungsi buat memberikan sebuah keputusan penting dalam pemberian putusan tentang hasil pemilu.
b. Mahkamah Konstitusi juga mempunyai kewajiban dalam memberikan keputusan atas adanya pendapat dan opini dari DPR kalo presiden atau wakil presiden diduga udah melakukan sebuah atau beberapa pelanggaran hukum yang jadi dampak dari penghianatan terhadap negara dan melakukan tindakan penyuapan, korupsi, perbuatan tercela atau tindakan pidana berat lain yang akan menyebabkan hak dan kewajiban sebagai presiden atau wakil presiden gak lagi terpenuhi seperti yang tercantum di UUD Negara RI pada tahun 1945.
c. Bebebrapa ketentuan yang udah dirumuskan pada ayat ke-2, yaitu:
Adanya tindakan pengkhianatan terhadap NKRI yaitu suatu tindakan pidana yang akan mengancam keamanan negara yang telah dituangkan di dalam UUD.
Tindakan pidana yang berupa penyuapan dan korupsi sebagaimana udah dicantumkan pada UU.
Adanya tindakan pidana berat lain yang merupakan salah satu tindakan pidana yang akan mendapatkan ancaman 5 tahun atau lebih didalam kurungan penjara.
Perbuatan tercela seperti melecehkan dan merendahkan pemimpin negara sang presiden atau wakil presiden.
Presiden dan wakilnya yang gak lagi memenuhi beragam persyaratan mutlak buat jadi seorang presiden atau seorang wakil presiden yang udah ditentukan didalam pasal 6 di UUD NKRI.
---
3. Kedudukan Mahkamah Konstitusi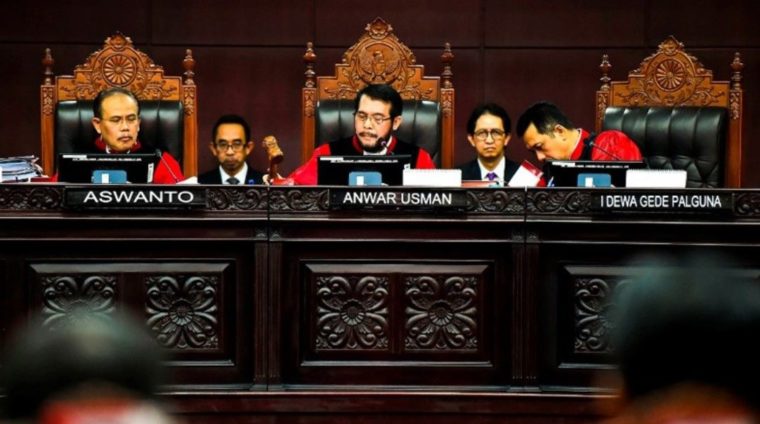 Kedudukan yang dimiliki oleh MK jadi salah satu perbedaan MA dan MK, dimana kekuasaan kehakiman udah ditetapkan didalam UUD NKRI tahun 1945 pada pasal 24 bahwa:
Adanya kekuasan dari kehakiman akan dipakai oleh MA dan badan peradilan yang merupakan bawahan dari lingkungan peradilan agama, MK, lingkungan peradilan tata usaha negara, lingkungan peradilan umum dan lingkungan peradilan militer.
Mahkamah konstitusi yaitu bentuk dari sebuah bagian kekuasaan kehakiman yang berupa kekuasaan merdeka yang dipakai buat penegakan keadilan dan penegakan hukum yang udah tercantum pada pasal 24 UUD NRI yang disahkan tahun 1945.
Dimana, udah dinyatakan dengan jelas kalo MA bukan bagian dan menyatu dengan MK dalam sebuah makna perkaitan dari struktur unity of jurisdiction, yang merupakan salah satu sistem hukum Anglo Saxon.
Pelajari juga : Dasar Hukum Komisi Yudisial
Menyatakan kalo MK berdiri sendiri dan juga terpisah dari MA secara duality of jurisdiction.
MK mempunyai sebuah kedudukan yang sama rata dengan MA, dimana kedua lembaga negara itu adalah penyelenggara tertinggi dari adanya kekuasaan kehakiman di Indonesia.
---
4. Kewajiban Mahkamah Konstitusi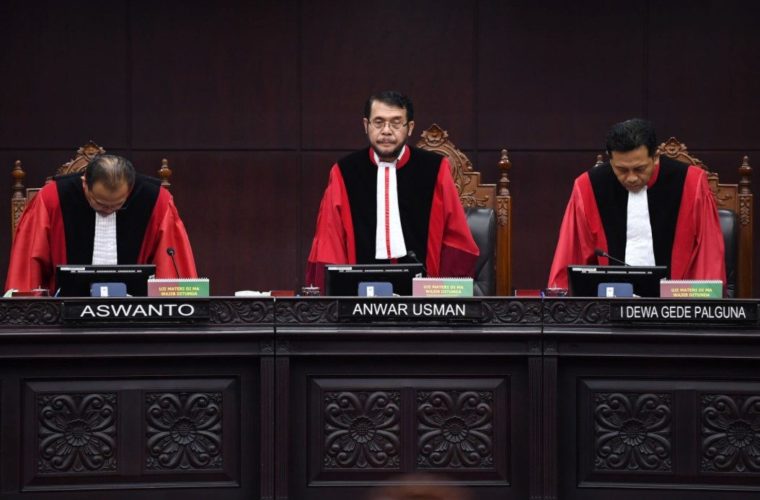 Tugas dan kewajiban Mahkamah Konstitusi yaitu dalam pemberian sebuah keputusan yang berdasarkan pada pendapat DPR.
Yang, menyatakan kalo Presiden atau Wakil Presiden yang udah diduga melakukan hal seperti berikut ini:
Artinya, penghianatan terhadap negara, penyuapan, korupsi dan beberapa tidakan pidana berat lain yang merupakan perbuatan menghina negara dan bersifat tercela.
Tentunya dengan adanya pelanggaran tersebut, membuat kedua orang yang mempunyai jabatan penting di Indonesia gak lagi memenuhi kriteria sebagai presiden ataupun wakil presiden lagi.
---
5. Proses Pengajuan Permohonan Perkara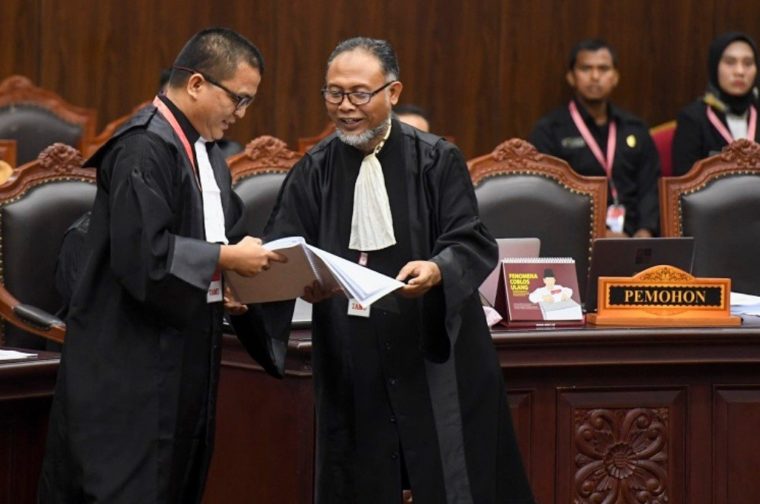 Berikut ini, ada beberapa tahapan dalam pengajuan permohonan perkara yang berdasarkan dasar hukum Mahkamah Konstitusi, yaitu:
Penulisan perkara dalam bahasa Indonesia yang baik dan benar.
Diajukan oleh pihak pemohon maupun diwakilkan pada kuasanya.
Pengajuan berkas dalam 12 rangkap.
Jenis dari pengajuan berkas perkara sesuai dengan kewajiban dan kewenangan MK Republik Indonesia.
Mempunyai kedudukan hukum yang legal dan identitas tercantum.
Mempunyai bebrapa bukti pendukung, petitum, dan posita
Perlu diketahui kalo MA dan MK adalah lembaga tinggi negara yang terbentuk berdasarkan adatas UUD 1945 yang udah dinyatakan pada pasal 24 didalam ayat 2 yang berbunyi:
Kekuasaan kehakiman merupakan keuasaan yang dilakukan oleh sebuah lembaga MA dan badan peradilan yang ada di bawh pimpinan dari beberapa peradilan seperti peradilan umum, lingkungan peradilan militer, MK, peradilan tata usaha negara dan peradilan agama.
Lembaga MA udah berdiri semenjak tanggal 19 Agustus tahun 1945 ini bisa dilihat dan buktikan sendiri didalam MA RI pada laporan tahunan tahun 2010, Februari 2011.
Sedangkan, MK berdiri tanggal 17 Agustus 2003. Walaupun mereka punya kedudukan setara, tapi jelas MA udah jauh berdiri lama sebelum MK ditetapkan.
MA dan juga MK yang bertindak sebagai pelaku dari kuasa kehakiman negara kamu yang telah merdeka ini bisa melakukan penyelenggaraan dari peradilan demi penegakan dari keadilan dan hukum yang berdasarkan atas dasar UUD 1945 dan juga pancasila sebagai pedoman negara.
Berlakunya 2 jenis pedoman tersebut adalah demi terselenggaranya sebuah negara hukum di NRIyang telah dinyatakan di dalam pasal 1 ayat 1 UU nomor 48 pada tahun 2009 yang berisi tentang kekuasaan kehakiman atau merupakan UU tentang Kehakiman.